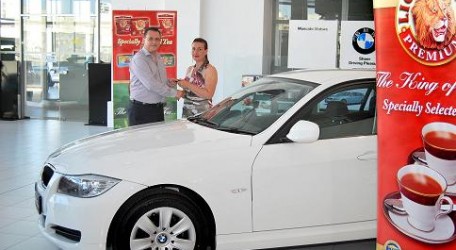 Vivian Lynn Magri of Ghaxaq, a Lion Tea drinker was beside herself to learn that she was the lucky winner of a sleek brand new BMW 316D (3 series) worth €40,000 in a competition organized by Lion Tea at the end of last year.  She was thrilled to drive home in a brand new supercar…a BMW316D. Ignition key in hand, she said she was stunned when she found the only Grand Prize Winning Voucher in a Lion Tea pack which she had bought very recently. ''I just couldn't believe my luck!" she said enthusiastically.  "I called B&A and answered correctly to the question asked, and I was then told that this lovely BMW was now all mine!  All my family and friends are thrilled, and have already asked me to take them for long drives in my new car.  I have been drinking Lion Tea for a very long time, and I must admit that it's a tea of excellent quality, besides it feels great to have been rewarded with such a gesture and such a great prize."
The BMW 316D (3 series) comes in full extras, a diesel engine and is a pristine alpine white.  Features include 5 doors, 1995cc, 115bhp, automatic start/stop function, runflat tyres, park distance control, rain sensor, automatic air-conditioner, professional BMW radio and reduced co2 emissions.
Popular since 1938, Lion Tea recently gave consumers the chance to win big, by picking up a Grand Prize Winning Voucher, inserted in the product.  Persons finding the winning vouchers were prompted to call a phone number and answer correctly to an easy question printed on the vouchers. The products in the competition were Lion Tea x 40 and x 80 Pack; Plastic Bag x 150 and x 250; Lion Loose Tea x 100g Pack; Lion Green Tea x 40 Pack, Lion Camomile x 20 Pack and Lion Decaffeinated Tea x 40 Pack.
"Our competition was a resounding success," said Chris Mamo, Marketing Manager at Borg & Aquilina Ltd.  "We are happy to have rewarded a customer that regularly enjoys the rich flavour and full strength of our Lion Tea and besides this grand prize, who knows what will be next to follow in the months to come!"  Long established amongst Malta's leading importers and distributors of quality consumer goods, Borg and Aquilina Ltd boast over 30 categories of high-quality premium fast-moving consumer goods ranging from food and beverage to health care and home care.  Among these are established and successful household brands very popular amongst local consumers.