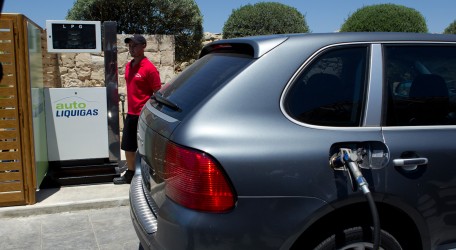 Liquigas Malta Limited has launched its second AutoLiquigas fuelling station today with a third one to open next month. Situated beneath Mdina in the limits of Għajn Buqana,  this fuelling station is conveniently situated at J. Micallef Station, to serve cars commuting in the northern part of Malta.
The first Auto Liquigas fuelling station was opened last year at Malta International Airport service station.  Liquigas Malta is working towards installing Auto Liquigas dispensers at other fuelling stations across Malta and Gozo.
This was announced by the Chief Executive Officer of Liquigas Malta Mr Roberto Capelluto, in the presence of the Minister for Transport and Infrastructure Mr Joe Mizzi and the Minister for Energy and the Conservation of Water Dr Konrad Mizzi. Company representatives present were Mr Paul Agius Delicata, Mr Jesmar Mifsud and Mr Noel DeBattista. The owner of the station, Mr John Micallef was also present for the launch.
"As a market leader in Malta, Liquigas is fully committed to increase the use of LPG as a car fuel. We got a very good response from the market and it was therefore natural to increase the Auto Liquigas fuelling stations to serve more customers., This will continue to encourage prospective customers to switch over to Auto Liquigas, a more environmental friendly fuel as well as a more cost efficient system," said Mr Capelluto.
"The increase in volumes, both of the number of conversion requests and the authorized conversion kits installers are sending a clear message from the Maltese market: the Maltese consumers have understood the benefits of this source of alternative energy."
Asked why one should convert vehicles to autogas, Mr Capelluto replied that road transport remains an essential feature of the European and Maltese transportation mix and is of tremendous importance for each and every citizen. Regrettably, it is also a major contributor to environmental pollution and climate change. Some 45% of Europe's population is exposed to concentration of Particulate Matter above the EU limits. Auto Liquigas reduces the Particulate Matter emissions with a positive impact on the health and well being of the population especially for those who live close to main roads and areas busy with traffic.
"Liquigas Malta encourages public policy makers to support the use of autogas as a fuel substitute through fiscal incentives," recommended Mr Capelluto.
AutoLiquigas is much cheaper than petrol or diesel. With the current selling price of AutoLiquigas in Malta at €0.73 per litre, it is half the price of petrol, and 46% cheaper than diesel. Car conversions are particularly cost effective for those car owners who use their vehicles daily.
Vehicle LPG conversions are being carried out by three authorised autogas installers. LPG conversion results in a dual-fuel car, that is a car that can run on either LPG or petrol at the flick of a switch, even while driving.  A switching device will be fitted on the dashboard to allow the driver to select between petrol and LPG. The cost of an LPG conversion is between €700 and €1,200, depending on the vehicle being converted.
However, the initial cost for conversion can be recouped via lower running costs, as one can easily save up to 50% on fuel costs. As LPG is much cleaner fuel, there is less wear and tear on the car's engine and its life will be prolonged.
Considering the volatile fuel prices and concerns over supply, air quality, climate change and the ongoing global economic crisis, Malta – like other European countries – needs to make optimum use of available energy resources. AutoLiquigas will ease Malta's transition to a low-carbon economy and will be making a meaningful contribution to the EU's efforts to reduce CO2 by 20% by 2020.
The increased use of Auto Liquigas in Malta, both as an environmentally-friendly and economical fuel, can help as it will minimize the negative impact on human health and on the environment. Recognising these advantages, the European parliament called on the European Commission to encourage the use of autogas as a substitute to petrol and diesel fuels.
Autogas fuelled vehicles generate 14% less CO2 emissions than their petrol equivalents. Autogas already powers more than seven million vehicles across Europe, representing 3% of its car fleet, and almost 17 million vehicles worldwide. By 2020, it is expected that the European car population using autogas will hit 10%.