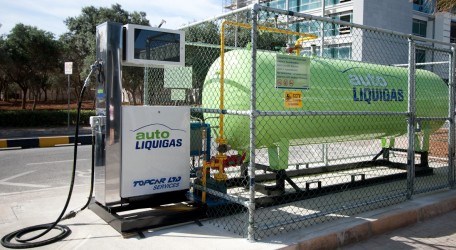 Available from the first fueling station at MIA
Auto Liquigas fuel is now available in Malta for those cars which are  converted to take  a cleaner automotive fuel, the Liquefied Petroleum Gas (LPG), imported by Liquigas Malta. Owners of LPG converted cars can now purchase Auto Liquigas from the first fueling station, Top Car, located at the Malta International Airport in Luqa.
This was announced by the Chief Executive Officer of Liquigas Malta Roberto Capelluto, in the presence of the Minister for Resources and Rural Affairs George Pullicino, during a press briefing held at Top Car Fuel Station, which is the first Auto Liquigas filling station in Malta. Also present were Liquigas Malta's Chief Operating Officer Paul Agius Delicata, Chief Financial Officer Stephen Muscat, Technical Manager Ing Robert Bonavia and Sales & Marketing Manager Jesmar Mifsud.
"This is a new page in the story of transport in Malta. As a leader in the LPG gas industry, Liquigas believes that its major investment in Auto Liquigas will be contributing to a much cleaner environment and reducing running costs for the existing petrol-fueled car owners," said Roberto Capelluto.  "As an environmental friendly and economical fuel, Auto Liquigas will help to minimize the impact of transport on our health and on Malta's natural environment."
Auto Liquigas is a clean, safe and widely used alternative fuel in European countries such as Italy, Poland, and Germany, and further afield in countries like Australia. It is the most effective option for converting the existing petrol-fuelled cars into more environmentally friendly vehicles. New and used cars can now be imported in Malta with the dual-switch to take both unleaded petrol and LPG fuel.
At today's prices, Auto Liquigas is much cheaper than petrol or diesel. With the selling price of Auto Liquigas in Malta at €0.75 per litre, it is about 50% cheaper than unleaded petrol, and 46% cheaper than diesel. Car conversions are particularly cost effective for those car owners who use their vehicles daily to commute or for transportation.
Vehicle LPG conversions are being carried out by authorised autogas installers. LPG conversion results in a dual-fuel car, that is a car that can run on either LPG or petrol at the flick of a switch, even while driving.  A device will be fitted on the dashboard to allow the driver to switch between petrol and LPG. The cost of an LPG conversion is between €700 and €1,300, depending on the vehicle being converted.
However, the initial cost for converstion can be recouped via lower running costs, as one can easily save up to 50% on fuel costs. As LPG is much cleaner fuel, there is less wear and tear on the car's engine and its life will be prolonged.
Considering the volatile fuel prices and concerns over supply, air quality, climate change and the ongoing global economic crisis, Malta, like other European countries, needs to make optimum use of available energy resources. Auto Liquigas will ease Malta's transition to a low-carbon economy and will be making a meaningful contribution to the EU's efforts to reduce CO2 by 20% by 2020.
The first Auto Liquigas fuelling station at MIA is a convenient location for people living or working in the South of Malta.  Liquigas Malta is working towards installing Auto Liquigas at other fuelling stations across Malta.