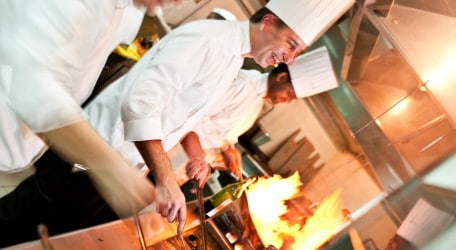 Why change a winning formula? Well, Le Méridien St Julian's Hotel & Spa didn't. The Scirocco Restaurant is once again hyped up with the coming-back of its popular Sunday Lunch. Prices remained unchanged. The bonuses and culinary twists too. For only Eur25.95 per person, guests may dig in one of the most appetizing Sunday buffet lunches available on the island. Friends and families are invited to embark on a savoury journey of antipasto and cold cuts, mouth-watering hot recipes, carvery wonders, delicious pasta dishes and scrumptious desserts.
Mastering typical Mediterranean specialities does not keep Le Méridien St Julian's Hotel & Spa from exploiting the overseas' classics with more northerly flavours. Following the success of the introduction of their signature Cheese Fondue last year, you will again be invited to dip the crunchiest french bread into an incomparable blend of the best melted cheeses. A great way to soothe post-summer blues and to warm up everybody's mood and stomach. Le Méridien boasts high quality standards in terms of cuisine, but they also commit into making sure that no one leaves the hotel's premises with a hunger. Freshness of produce, variety and abundance is the motto of their creative kitchen brigade, led with excellence by Executive Head Chef Reuben Grixti.
This being said, for some of us, a good meal doesn't go without a good wine. That's why Le Méridien St Julian's also offers to enhance your food experience with a hassle-free and all-inclusive beverage package. For Eur33.95 per adult, not only are you given unlimited access to a vast choice of culinary options, but you will also indulge in free flowing wine, beer, soft drinks and juices. But don't drink and drive: you can also stay overnight at the hotel (subject to availability). Call 2311 2111/2/3 to book your preferred accommodation.
When visiting Le Méridien Sunday Lunch, it is great to see that our little ones haven't been forgotten. Not only is entertainment provided but also children up to 7 years of age can help themselves at the buffet for free, whilst parents will only pay 12 Euros per head for youngsters between 8 and 15 years old.
Should you have additional questions or should you wish to reserve a table,  please call 2311 0000. Group queries may be addressed via email at [email protected]