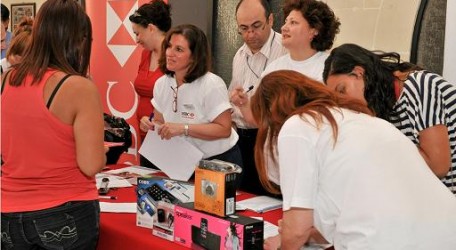 Pictured above: HSBC employees explaining the various benefits of Yes 4 Students packages at Sir Michelangelo Refalo Upper Lyceum in Gozo
HSBC Malta's Yes 4 Students proposition offers a steady head start with expert financial assistance and numerous exceptional benefits to assist students. These include higher interest rates on savings, a free Yes 4 International debit card, free Internet Banking and free mobile services.
Full-time students aged between 13 and 25 years can benefit from bespoke packages: YES 4 Students 13+, YES 4 Students 16+, and YES 4 Graduates. These offer access to products, services, and assistance to help students keep their finances under control, now and in the long term.
From 1 July to 31 October 2012, students opening an account will receive a complimentary2GB Pen Drive. Moreover, eligible students may choose from a range of highly desirable free gifts, including a 32 GB pendrive, an HD video camera, and an iPhone / iPod dock with speakers.
Students may apply for an HSBC Student Account online at www.hsbc.com.mt/yes4, where the full range of gifts is also on display. This year, online applicants may take home an additional prize by participating in a puzzle competition which is integrated in the online application.
"The assistance given by HSBC to students in their personal banking requirements goes a long way towards assuring that they achieve their life and career goals", said HSBC's Head of Customer Value Management, Joyce Grech. "HSBC's Yes 4 Students paves the way for students with exceptional services, preferential rates, and specialised assistance that are designed specifically to meet their financial requirements."
Yes 4 Students also facilitates students' travel by offering preferential foreign exchange rates. Furthermore, the Yes 4 International Debit Card provides free cash withdrawal at any HSBC ATM around the world as well as instant access to one's money without charge wherever the VISA sign is displayed.
More information about HSBC's Yes 4 Students packages can be obtained by logging on to www.hsbc.com.mt/yes4, by calling Customer Service on 2380 2380, or by visiting any HSBC branch in Malta and Gozo.