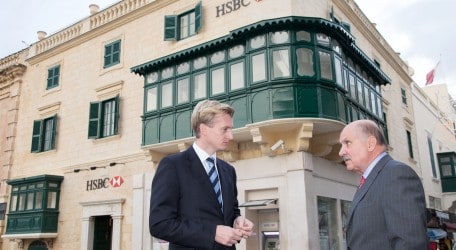 HSBC Malta has completed the restoration of its headquarters in Valletta, an early 17th century historical landmark located in the epicentre of the UNESCO World Heritage-listed capital city.
The building's new-look façade revives the original elements of the iconic building and adds to the splendour of the monuments on Pjazza San Ġorġ. The restoration was completed just in time for the Maltese Presidency of the EU Council during which about 20,000 delegates from around Europe are expected to visit the administrative and commercial nerve centre of Malta.
While the upper floors of the building were reconstructed after World War II, the restoration work showed that the façade  at ground floor level pertained to the original structure. During the restoration, remains of an arched opening were discovered beneath the renders of the façade.
Other highlights from the project scope included comprehensive façade cleaning, 100% re-pointing of all bricks and internal masonry, and restoration of the windows.
HSBC Malta worked with preservation experts so that the highest priority was given to maintaining the heritage of the structure but also to safeguard the principles of restoration interventions. As a result, the exterior closely resembles the colour of the original stones.