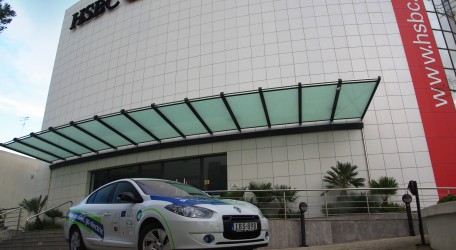 HSBC Bank Malta has trial-tested a battery electric vehicle (BEV) as part of the EU Life+ project Demo EV. The project which is managed by the Ministry For Transport & Infrastructure is intended to initiate a better awareness of electric vehicles in Malta by offering cars for trial drives, gathering data on their performance, giving information to the general public, and installing a country-wide EV charging network.
HSBC tested a Renault Fluence ZE for a period of 2 months. During this time, the Bank gave as many people as possible, particularly staff,  the opportunity  to view the car and enjoy a quiet ride. Around 100 persons took up the invitation, from adults with children to professional engineers and motor mechanics. The car travelled over 2,500 kilometres during the trial period.
Comments about the car were positive and varied from the zero emissions and zero noise in terms of the car's silent electric motor to the car's comfortable drive and powerful performance.
According to statistics collated by HSBC during the trial period, the electric vehicle travels a maximum distance of around 130kms on a full charge, and takes around 10 hours to fully recharge the batteries when plugged to a domestic socket outlet. The batteries charge much faster if plugged to one of the one hundred charging points installed around Malta and Gozo.
"The car takes 22kWh of electricity to fully charge the batteries. Costs works out at 0.027c/km to run compared to 0.117c/km for my 900cc petrol car – a saving of almost 80% on running costs" said one HSBC staff member who test-drove the car.
CO2 emissions for electrical power to charge the car equate to 113g/km compared to 150g/km for an equivalent petrol car, and the EV's carbon footprint will go even lower with the planned upgrades in power generation. This fact proves wrong a common myth that electric vehicles have a carbon footprint equivalent to an internal combustion engine (ICE) car.
"HSBC has always been on the forefront in terms of sustainability, reducing its carbon footprint by more than 25% in the past 6-years.  DEMO EV is another initiative which the Bank is fully supporting, together with the government's target of putting 5,000 electric vehicles on the Maltese roads by 2020," said Mark Watkinson, CEO of HSBC Malta.
More information is available via www.electricvehiclesmalta.eu