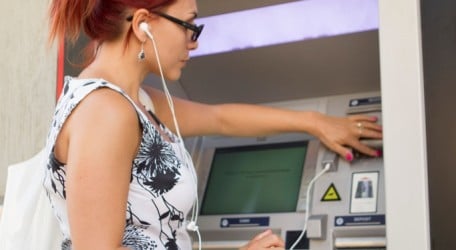 HSBC Malta has introduced voice technology in its ATMs outside its Operations Centre at Qormi, and in its branches at Sliema, Valletta, Paola, Mosta and Victoria Gozo, to enable visually impaired people to use its banking facilities. This is part of an ongoing installation programme to roll out this functionality in all HSBC ATMs during 2015.
Once a customer connects any standard 3.5mm earphone to the ATM, pre-recorded voice instructions, available in either Maltese or English, guide customer through a number of transactions. During these operations, the ATM screen is blanked out to ensure customer security and privacy. HSBC's Talking ATM features include cash withdrawals, cash deposits, and balance enquiries.
HSBC is also offering customers the additional functionality of operating the machine with enlarged fonts, a service which will enable customers with low vision to operate the machine more easily, while ensuring their details remain secure.
"Over the past months our teams have worked hard to ensure HSBC's Talking ATMs have the appropriate levels of security, privacy and ease of use to enable our visually impaired customers undertake simple transactions," said Paul Steel, Head of Retail Banking & Wealth Management at HSBC Malta.
HSBC worked with the National Commission for Persons with Disability (KNPD) as well as the Foundation for Information Technology Accessibility (FITA) throughout the development of this project.
KNPD's Chairperson, Oliver Scicluna, added, "The Commission is dedicated to working for a truly inclusive society in Malta and our alliance with HSBC is another step towards helping provide independent access to banking services – an integral part of modern life."
FITA's ICT Accessibility Certification Officer, Mr. Michael Micallef,   agreed,  "FITA assists persons with disability in overcoming or removing ICT access barriers. Our collaboration with HSBC Malta in providing this progressive change to its ATMs will enhance the quality of life for many individuals.''
HSBC also offers a specially designed Personal Internet Banking Secure key free of charge to customers with sight problems, enabling them to make full use of its online banking facilities.
Additional information about this service is available via www.hsbc.com.mt/atm  or by calling HSBC Contact Centre on 23802380.