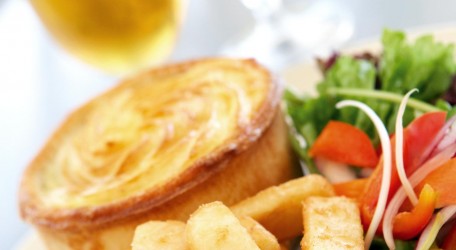 Beer is the world's most widely consumed alcoholic beverage and is the third-most popular drink overall, after water and tea. But beer is more than just a drink. Le Méridien St Julians Hotel & Spa, in partnership with Farsons, explores the unlimited possibilities of the rich flavours contained in a pint and demonstrates the versatility of that ancestral brewed recipe. Until the 25th of October, the culinary theme at KuDéTa Lounge & Bar is beer, with special offers, à-la-carte beer pairing menu, weekend entertainment and giveaways. A 5-star approach to malt and ale, which promises to seduce crowds of beer enthusiasts.
Did you know that lagers go very well with fish and white meat dishes, whereas ales pair well with smoked, barbecued food and red meats? Well, that's only one of the many tricks that Le Méridien creative kitchen brigade will be using for the delight of our taste buds in the coming week. Throughout the Hops & Forks initiative at KuDéTa Lounge & Bar, visitors will be able to avail themselves from a unique a-la-carte menu with tantalizing items such as asparagus ravioli with a Blue Label Ale beurre blanc, beef stroganoff gnocchi with a Guinness and truffle cream sauce or ginger and Cisk Export cake with hazelnut ice-cream. But that's not it. A lot of other dishes are on offer with surprising and inspiring accompaniments such as Hopleaf Pale Ale cream sauce, Woodpecker sauce, bacon compote infused with beer and so on. Other interesting highlights include black shell mussels cooked with Cisk Lager and even a choice of homemade pizzas with a sumptuous beer dough.
"Beer might not always be a popular inclusion in traditional home cooking but it indeed presents endless and very interesting pairing possibilities," explains Reuben Grixti, Executive Head Chef at Le Méridien St Julians Hotel & Spa. "We have embraced this initiative with Farsons with great enthusiasm as it allows us to present something different yet appealing to our customers. It sparked a lot of creativity amongst our chefs and we are convinced that it will be extremely well received."
To encourage their local patrons to visit during this Hops & Fork promotion that will last for nearly two weeks, Le Méridien St Julians Hotel & Spa extends specials on all beers during that period: every two glasses of any beer will be sold for the price of one. Quite an incentive to unveil the pleasure of an ice-cold beer in a rather luxurious environment. And with their first purchased beer, all clients will also receive a free pint glass. In the weekend, live entertainment will provide an added vibe to the fashionable Lounge, with Cooks Duo performing every Friday and Saturday evening (11th -12th/ 18th-19th).
This original initiative will end on a particularly exceptional note with an amazing 4-course beer pairing dinner on Friday 25th of October. This plated dining event will be cooked in exclusivity by Le Méridien Executive Head Chef. Unique recipes concocted just for the occasion will include sweet-sounding dishes like roast Irish lamb rack with Blue Label Ale infused couscous or cappuccino of woodland mushrooms and Guinness soup.  Beer connoisseurs from Farsons will explain the beauty and art of brewing throughout dinner and a live Jazz Band will set the atmosphere right for an unforgettable evening. For €45 per person including a different paired beer for each delightful plate, this is an ode to discovery that food and beer lovers alike should certainly not miss.
More information on facebook.com/maltalemeridien or facebook.com/cisk
Bookings on 2311 5230 or [email protected]