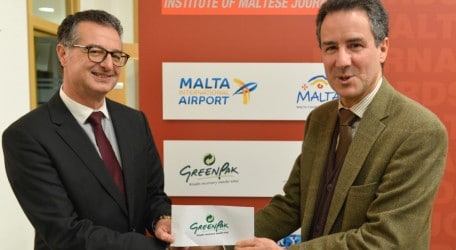 Pictured above: GreenPak Coop Society CEO Ing Mario Schembri presenting the GreenPak's sponsorship to Malcolm J. Naudi, IĠM Chairman
The three shortlisted journalists who submitted their works for the Environmental Journalism category were announced during a presentation ceremony organised by the Institute of Maltese Journalists (IĠM). The category finalists are Dr Edward Duca from Think science magazine, Dr Alan Deidun from The Sunday Times of Malta and Mr Alvin Scicluna from TVM.
GreenPak Coop Society CEO Ing. Mario Schembri, the sponsor of the Environmental Journalism category, congratulated the three finalists ahead of the Malta Journalism Awards finals ceremony, to be held on 3 May, 2014, for their commitment in producing quality journalism.
"Over the past five years GreenPak has been sponsoring the Malta Journalism Awards to encourage more awareness on environmental issues. Although Malta has recorded a slight progress in recycling waste according to the recent Environment EU28 report, we are still generating 589 kg per capita of waste.
"This is considered as a very high proportion of waste while Malta, with 87%, still ranks among the countries with the highest share of landfilled municipal waste. We therefore believe that news media in Malta have an essential educational role to perform in this regard," explained Ing. Mario Schembri during the presentation.
"GreenPak is continually working to increase recycling of household and municipal waste and to divert waste away from landfills. Our waste record has constantly increased from a register of 358,500 kilos in 2006 to 17,850,000 kilos in 2013.
"We mainly attribute our positive increase in recycling to educational campaigns which GreenPak has actively embarked upon in various schools and with residents of the 38 Local Councils that are registered with GreenPak's scheme, but more needs to be done," added Ing Schembri.
The environmental category was established in 2009 to give due recognition to those journalists who employ environmental journalism to inform and educate their respective publics. Each submitted portfolio is examined mainly for its newsworthiness: timely work that adds to or encourages debate on current environmental issues; and for its impact that can positively affect or influence the community.
Ends