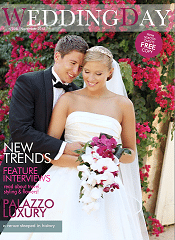 The latest issue of Wedding Day magazine (the last issue for this year) was met with an incredible response by readers at the Weddings Fair. Thanks to our main distributors Wedding Bells, Flower Arts and Cefai Formal Wear, we managed to reach thousands of couples who are planning their wedding in the next few years.
What better way for advertisers to reach their target audience than through direct distribution to engaged couples? That is why WD has proven to be one of the best marketing tools for those in the wedding industry.  Each issue is guaranteed to go straight to those who are really interested in your product, rather than the 'hit or miss' method of distributing with a newspaper.
We would like to thank all those who help us to distribute including the selected news agents who have been with us from our first issue. We also have to mention, of course, that we can only manage to keep our magazine FREE because of the amazing support we have received from advertisers in the wedding industry who have shown their faith in our publication.
Above all we wish to thank the following members of our official photo shoot team, Marquita Kemper from Wedding Bells, Joseph Baldacchino from Flower Arts, Daniela Cassar (make up), Jo Briffa from hairoscope (hair), Elaine Zarb from Elegant Impressions for the photo shoot styling and Glorianne Gerada from Cuppy Cakes (cake designer).
We are already busy working on our marketing strategy for 2014 when we will be bringing you more fabulous weddings, stunning photography, interesting features, elegantly stylish photo shoots and amazing makeovers. Some innovative ideas are in store for you as well, to ensure that WD, with its fresh, clean design,  continues to be the market leader in the field of wedding publications.
Last but not least, we would like to thank Bestprint for WD's  excellent printing quality.
To see an online version of this and all our past issues please go to www.issuu.com/weddingday
WD is published by Mojo Publishing Ltd.
For more information email [email protected]