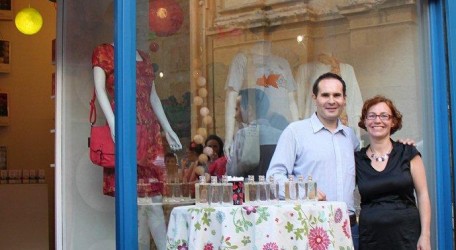 Lazuli,  designer clothing and accessories boutique at St. George's Square, Victoria, Gozo is delighted to announce the launch of a very special new perfume collection: FWIEHA FRAGRANZA TA' MALTA for which the boutique has been selected to be one of only a few exclusive outlets on Malta and Gozo.   At a special launch on the evening of Friday 8 August at Lazuli, boutique owner Charlotte Lombard and her team welcomed the collection's creator, famous French perfumer Eddy Blanchet, who introduced invited guests to his new fragrance collection and shared with Gozo the inspiration behind the fragrances.  Guests were treated to individual fragrance testing and consultations with this master perfumer.
After the launch Eddy Blanchet said:
"I would like to thank all the guests who came to the Fwieha Fragranza ta Malta launch at Lazuli on Friday evening.  I was impressed by my Gozo audience's knowledge of fine fragrances.  It was a real pleasure to share a passion with real connoisseurs.  I was pleased to offer guests an opportunity to discover and appreciate my fragrances created in homage to the treasures of the Maltese islands.  Thank you to Lazuli and all those in Malta who have supported this project since the beginning.'
French-born owner/director Charlotte Lombard's boutique Lazuli has been delighting customers with THE fresh look of this summer since opening in March this year.  Lazuli is the sister shop to her other business Organika which has been open on St. George's Square for seven years.  Charlotte said:
"I am excited to be able to offer Lazuli's discerning clients this new range of exclusive quality perfumes specially created for the Maltese islands in addition to our French designer brands of colourful clothing and accessories.  When I was approached by the company to be one of a handful of specially selected retailers chosen to represent the brand FWIEHA FRAGRANZA TA' MALTA I instantly recognised this was a unique opportunity to offer our clients something special:  a fragrance collection which epitomises the essence of Malta and Gozo from a company that shares our commitment to quality, environmental responsibility, ethical trading and is also eco-friendly.  It was a privilege to welcome Eddy and his team to Gozo and I was delighted by the response of our clients to his new fragr
Lazuli is stocking all nine beautifully packaged fragrances so our regular clients are sure to find one which appeals to them. Magic Rock – Sunset at Dwejra is inspired by one of Gozo's most inspiring landmarks and along with the other fragrances inspired by the natural landscape, the sea and sunshine, gardens and cities we are sure that visitors to our island will find a scent to take home which captures and evokes lasting memories of their holiday.'
The creator of the FWIEHA FRAGRANZA TA' MALTA Eddy Blanchet is one of the most respected French perfumers of his generation; founder of Maitre Parfumeur Haute Parfumerie; professor at the Grasse Institute of Perfumery and Paris Business Schools. In 2010, after travelling all over the world as a result of his many commitments, Eddy Blanchet fell in love with Malta and especially with the diversity of scents that he experienced here. Having explored several of the beauty spots, and meeting with President George Abela at San Anton Gardens he was inspired to capture the spirit of the Maltese islands in a bottle. FWIEHA FRAGRANZA TA' MALTA was born, a collection with rare, fine and delicate fragrances, paying homage to Malta, taking a touch of the island to the international stage.
This exclusive Maltese Fragrance brand is composed of nine 100 ml eau de toilette fragrances;  the Gardens Collection (Argotti, San Anton, Buskett), Cities Collection (Valetta, Sliema, Mdina) and Essence of Malta Collection (Magic Rock, Blue Grotto, Wind of Serenity).   All are available for sale at Lazuli where knowledgeable staff will guide you through the collections and help you to choose the perfect fragrance for yourself or for a special gift.
The collections are fresh and natural, seductive and sensual, energizing or relaxing.  Through the use of quality, natural ingredients together with his unique skill and inspiration Eddy Blanchet has managed in this collection to transform emotions into fine fragrances.  Each perfume tells a story, or brings back a memory, a magical place, a unique instant in each and every one of us.
Lazuli opens:  Mon-Fri from 10am-6pm and Saturday from 10am-2pm.
Facebook : https://www.facebook.com/pages/Lazuli/508900995897624