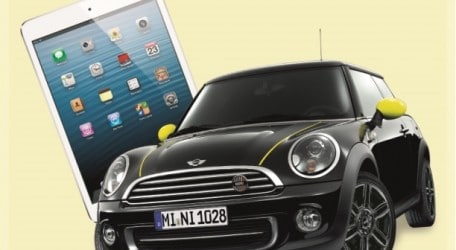 GO mobile customers have the chance to participate in a trivia SMS competition and win great prizes. GO4Mini gives GO Mobile customers the chance to win an iPad Mini every day, one 42" TV and a €500 Fuel Voucher and, even better, a brand new car, a MINI One. The competition began yesterday and runs up to the 17th November.
The competition is open to all GO mobile customers who are 18 years of age and over and subscribed to any Pay As You GO or GO Pay Monthly plan. To participate, customers just need to send an SMS to 50700300 with the word 'MINI'. Participants will then receive two initial messages. The first includes information about prizes and the cost of each SMS. The second message contains a trivia question. The participant needs to respond with the correct answer by simply sending '1' or '2'. Each SMS sent by the participant costs €1.20. SMS which form part of a monthly bundle cannot be used for the purpose of this competition.
Throughout the competition participants can collect points by answering correctly to questions. Each question has two answers – a correct answer and a wrong answer. Each correct answer is rewarded with points. Points are carried forward from one day to the next. An iPad Mini will be awarded every day of the week including Sundays. All participants sending at least one SMS to 50700300 on the day are eligible to win the daily prize.
A MINI One will be awarded on the final day of the competition. All participants are eligible to win the MINI. The number of points accumulated through correct answers gives participants a better chance of winning any of the prizes. Participants will be able to reply to a maximum of 30 trivia questions per day.
Speaking about the competition, Simon Falzon, Product Manager – Mobile at GO, said: "We are delighted to give our mobile customers the opportunity to enjoy themselves through a trivia SMS competition and get the chance to win awesome prizes! Within the next couple of weeks our customers will be competing to win an iPad Mini every day, 2 random prizes of a 42" TV and a €500 Fuel Voucher and finally the grand prize of a new car – a MINI One."
"We know that our customers love the chance to answer trivia questions and win prizes and this is why we are running this new GO4MINI SMS competition," he said.
If participants wish to opt-out of the competition, they can do so simply by texting 'STOP' to 50700333 free of charge."
For more information on the GO4Mini SMS competition, customers can call GO customer care anytime on 146 – free from their GO mobile connection – or Freephone 8007 2121. Alternatively they can opt to visit the website www.go.com.mt. Further details are also available on the GO Facebook page. Terms and conditions apply.