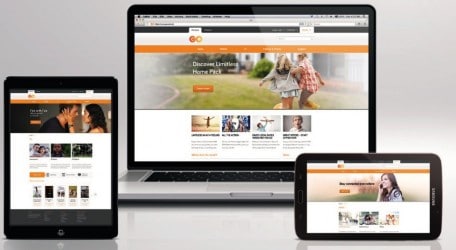 GO plc is today launching its new website at www.go.com.mt. Apart from a completely new design, the new site also features improved functionality and navigation.
Key features on the new website include a redesigned and updated telephone directory search service, access to a full TV electronic programme guide (EPG), and updates to the MyGO service. In addition the new site includes a number of quick links to help customers get to the information they need. A devices catalogue with clear information on all the smartphone and tablet devices available from GO is also among other new features on the website.
Speaking about the revamped website, Claire Galea, Digital Marketing and Portals Manager at GO, said, "Our new website is more dynamic,  stylish  and user-centric, giving customers a new platform through which they can access the information they need across all our Packs, TV, mobile, internet and phone services."
"We've also made it easier for people to find information faster, check what's on TV or to pay bills online.  This project marks the culmination of many months of hard work from many people. We are confident that from today, customers visiting www.go.com.mt will be enjoying a much better experience that is faster, easier and smarter," she said.
GO has also produced a short introductory video to its new website which highlights the new services and functionality which www.go.com.mt now offers. This video can be viewed on GO's YouTube channel (https://www.youtube.com/user/gomaltachannel)
More information is also available by calling 146 from a GO mobile connection or on Freephone 8007 2121