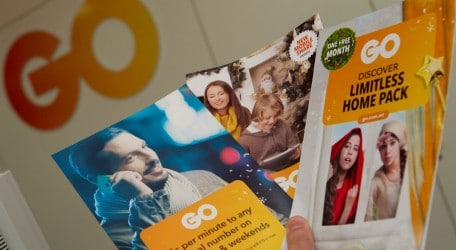 GO has launched a number of Christmas offers for both new and existing customers across its range of TV, internet and telephony services. These offers are available to new GO Limitless Home Pack customers, new GO Sports customers, new and existing Limitless Mobile customers and similarly to all Pay As You GO customers including those wishing to switch to GO.
Limitless Home Pack Offers
New Limitless Home Pack Interactive customers will benefit from their first month free. This will be in addition to the standard benefits of the pack including; enjoy 100+ TV channels in amazing picture quality, unique TV features including restart, catch-up, pause, rewind and record, limitless calls to all GO phone lines, Limitless Internet with faster download speeds. You can also benefit from big savings on mobile calls and up to 400 free minutes shared between four mobile users, 2 free set-top boxes, free installations, and free internet modem.
Limitless Home Pack Interactive Silver with 70+ tv channels is available for €38 monthly. Upgrade to Limitless Home Pack Interactive Gold for 100+ tv channels and Limitless calls to all local phone lines for an additional €10 monthly. Also add GO Sports for only €14.99 monthly and benefit from free access to GO's HD channels including GO Sports HD 1 and GO Sports HD 2.
More savings for Limitless Pay Monthly customers
A new scheme being introduced this Christmas provides GO's Limitless Pay Monthly customers with savings of up to €20 each month on a 24 month agreement when keeping their existing smartphone. All Limitless Mobile Plans offer Limitless calls, SMS, generous mobile internet allowances and up to €9 off monthly on each mobile plan for Home Pack customers. These savings are additional to  other discounts GO is already making available to its Home Pack customers and are available on existing and new 2-year agreements on Limitless Pay Monthly.
Affordable Pay Options on the latest smartphones & tablets
New and existing Limitless Pay Monthly customers who wish to purchase a new smartphone or tablet will also be able to benefit from new pay options on the latest smartphones with a 24 month term agreement. Customers simply need to select one of the latest smartphones, pay part of the smartphone upfront and select between two smartphone pay options of €10 monthly or €20 monthly with Limitless35 and Limitless60. This limited time offer is also available on the latest tablets and is valid until 7th January 2014.
Mobile Share – one mobile internet bundle on two devices at the same time
GO is the first provider to introduce the innovative concept of sharing a mobile Internet bundle across two devices. Mobile Share gives Limitless Pay Monthly customers the flexibility to share their mobile internet bundle on their smartphone with another mobile internet device such as a tablet. With Mobile Share, two users can share one mobile internet bundle and use mobile internet at the same time from different locations. Mobile Share is available as an introductory offer for only €2 monthly. Additional bundles are available at reduced rates for Mobile Share customers only. Customers can add 5GB for €7 monthly or 12GB for €12 monthly. Mobile Share is available from 29th November 2013.
New Super Top Up for Pay As You GO customers
Customers who top up with €10 or more will be able to call any local number for 5 cents per minute during evenings, weekends and public holidays. With this new Super Top Up scheme, GO has extended the lowest mobile call rate to any local number. The benefit is valid for 30 days after each top-up. Within the same duration, customers also get 100MB mobile Internet with each top up of €10 and 250MB with each top up of €20. To apply customers may send a free SMS with the word 'anyone' to 16414 and then top up with €10 or more.
Throughout the Christmas period, GO is extending this new Super Top Up to all new Pay As You GO mobile connections. To benefit, simply top up with €10 or more when you join GO on Pay As You Go.  Customers joining GO also get 100 free minutes, 300 free SMS to all local numbers and 500MB of mobile internet for 30 days. New customers can retain their existing number and keep their existing credit up to a maximum of €15.
Further details on all GO's Christmas Offers are available from all GO retail outlets or exclusive resellers in Malta and Gozo, by calling Freephone 80072121 or visiting, www.go.com.mt or www.facebook.com/go.com.mt