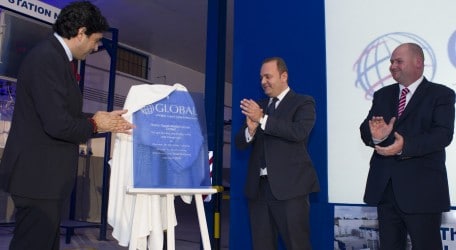 Pictured above: Global Gases' Managing Director and CEO Mr Deepak Mehta together with Minister Dr Chris Cardona unveiling  the official plaque to inaugurate the new facility in Malta. Also in photo (right) Country Manager Royston Vella
Global Gases, the world leading producer and distributor of speciality industrial gases, has chosen Malta as the site for the first specialty gas blending facility in the Mediterranean region. The facility, located in the Bulebel Industrial Estate, Żejtun, was inaugurated by the Minister for the Economy, Investment and Small Business, Dr Chris Cardona.
Global Gases, with its headquarters in Dubai, is the world's leading independent supplier of industrial and speciality gases to the offshore and medical markets. The company's products include, among other speciality gases, a range of gases and mixtures based on argon and helium for a wide range of metal joining activities, breathing gas mixtures for deep water offshore operations, mixtures of liquid helium and nitrogen and associated products and services for MRI operations, cylinder gases and mixtures for research, laboratory and other medical applications.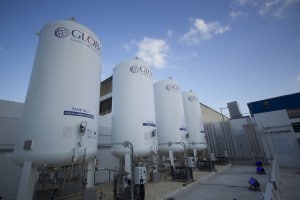 Global Gases' Managing Director and CEO Deepak Mehta said, 'Our new plant in Malta, which is the first speciality gas blending facility in the Mediterranean and Europe, will provide an excellent base for us to further improve our ability to serve clients in Malta, across North and West Africa, as well as Southern Europe and the Eastern Mediterranean. We have invested an initial €2 million to get this facility up and running but the long term benefit for Malta will be much greater as this is a high value business that is very likely to generate considerable revenues for Malta's Treasury."
"Malta is the ideal location for us, not only because of its great geo-political location. The fact that the process of setting up business here is rigorous but straightforward was also crucial as was the first class support from all the agencies which we have dealt with. Global Gases is committed to the long term development of our operation in Malta as the hub for our expanding the business across the region," continued Mr Mehta.
Global Gases has facilities in Afghanistan, Australia, China, Georgia, India, Italy, Malaysia, Nigeria, Papua New Guinea, Singapore, South Africa and the United States. Through these facilities, the company provides industrial and high purity, helium, argon, nitrogen, oxygen and carbon dioxide for use across a wide range of applications.
Minister Cardona said, "Global Gases took a strategic decision to invest in Malta because of its great location between Europe and North Africa but also because they found the right environment, infrastructure and support to give them the confidence to invest in our country. This is exactly the type of international, high value business which the Government is working hard to attract to Malta. The opening of this new facility reinforces our belief that the inward investment strategy we are pursuing is the right one."
The Malta gas blending facility will operate as a separate company, Global Gasses Mediterranean, within the Global Gases group. Global Gases Mediterranean is led by Country Manager Royston Vella. Mr Vella has several years experience in industrial fire and security industries in both Malta and the United Kingdom.
Co