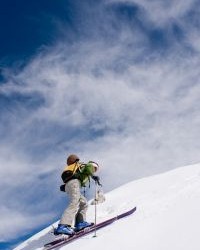 Reflecting new trends in travel such as coverage for skiing holidays
GasanMamo Insurance has launched an upgraded travel policy that reflects new trends in travel.  The policy provides new cover and increased benefits at the same premium.  "The improvements we have effected are based on the feedback we have been given by clients during our customer handling both at the selling and at claims stage," said Chris Delicata, Senior Manager, General Business, Personal and Commercial Underwriting at GasanMamo.
"The way people travel has changed and evolved.  Going abroad is becoming ever more sophisticated and people require that their travel insurance meets this.  The improvements are particularly important for Executive level of cover and see an increase in cover limit especially in the medical expenses baggage and money sections."
Carefully designed around customer demands, the new travel policy covers new ground and is one of its kind on the market, setting new benchmarks.  It also caters for activities abroad that are becoming increasingly popular such as golfing, winter sports including skiing and concerts.  Veterinary expenses for your pet while you are abroad is also a novel cover.
The highlights of GasanMamo's new travel insurance policy  includes increased  cover for medical expenses incurred abroad with a maximum cover of €1,000,000; baggage cover of  €3,500, and cover for loss of money for up to €2,500.
The policy also includes increases in the  limits covered -in respect of cancellation of holiday cover; emergency medical treatment; hospital cash benefit; personal liability; missed departure; loss of passport and rental car insurance excess.
"This development is in line with the GasanMamo strategy to ensure that we offer market leading products that are designed around and for the customer and this at low premium ensuring unmatched value." added Chris Delicata
GasanMamo's new travel insurance maybe easily purchased online at a click of a button from www.gasanmamo.com/travel.html.  The policy is easy to understand and is competitively priced.