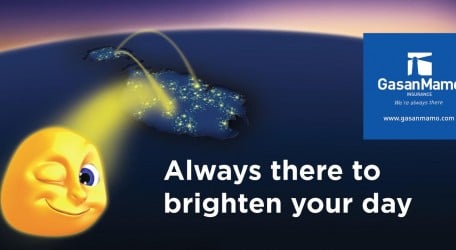 GasanMamo Insurance is proud to launch its new marketing campaign for 2013. This revolves around a ray of light which is animated and personifies what GasanMamo seeks to bring to its clients. This little bit of "light" brightens one's day combating the negative feelings that go hand in hand with risk and  possible financial loss.  This warm and friendly light internally christened "Ray", is close by, yet not in the way, always efusing a gentle glow that brightens and comforts.
"The new advertising campaign brings out the important sense of service that we bring to clients as well as the extensive reach in acheiving this through our network of branches and intermediaries across Malta and Gozo," said Julian Mamo, Director at GasanMamo. "At GasanMamo we are committed to adding genuine value to our clients, not just in the event of a claim but every single day,"  added Mr Mamo.
GasanMamo's new advertising campaign comes with the slogan "Always there to brighten your day",  a positive message in a light hearted tone. The GasanMamo TV commercial can be viewed on several Maltese TV channels as well as the GasanMamo Facebook page www.facebook.com/gasanmamo.
06.02.2013
GasanMamo titfa' raġġ ta' dawl fuq kull sitwazzjoni kerha
GasanMamo Insurance ħabbret li se tniedi l-kampanja tal-promozzjoni l-ġdida tagħha għall-2013. Il-kampanja hi ffukata fuq raġġ dawl   animat  li juri dak li GasanMamo jixtieq jaghti lill-klijenti tiegħu. Dan il-ftit dawl isebbaħlek il-ġurnata billi jikkumbatti l-emozzjonijiet negattivi li jimxu id f'id mar-riskju u t-telf finanzjarju. Dan id-dawl ħabib internament magħruf bħala "Ray" ikun dejjem qrib iżda mhux fin-nofs u dejjem jitfa' raġġ ħafif ta' dawl li jdawwal u joffri serħan il-moħħ.
"Din il-kampanja l-ġdida ta' promozzjoni turi l-importanza li aħna nagħtu servizz mill-aqwa lill-klijenti tagħna u nagħmlu dan permezz tan-network ta' uffiċini u intermedjarji  mifruxin madwar Malta u Għawdex," qal Julian Mamo, Direttur ta' GasanMamo. "It-tim kollu ta' GasanMamo mpenjat li jagħti valur miżjud lill-klijenti tagħna mhux biss meta jagħmlu claim iżda kuljum," żied Julian  Mamo.
Il-kampanja l-ġdida ta' promozzjoni ta' GasanMamo għandha s-slogan "Dejjem fil-qrib biex insebbħulek il-ġurnata", messaġġ car b'ton posittiv. Ir-riklam tat-TV ta' GasanMamo se jkun fuq diversi stazzjonijiet tat-TV Maltin kif ukoll fuq il-paġna Facebook ta' GasanMamo www.facebook.com/facebook.