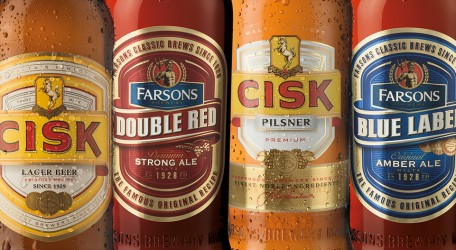 This year's edition of the Australian International Beer Awards (AIBA), the largest annual beer competition in the world judging both draught and packaged beer, has just awarded silver to Farsons flagship brand Cisk Lager and Double Red Strong Ale, whilst Blue Label Amber Ale and Cisk Pilsner have been awarded bronze medals. All four beers are brewed at Farsons Brewery.
Conducted by The Royal Agricultural Society of Victoria (RASV), the AIBA inspires and celebrates excellence in brewing, beer packaging design and beer media. Providing brewers from around the globe with an essential benchmarking opportunity, the Awards are open to breweries of all sizes, from boutique small volume to large-scale commercial production. Federation University Australia is a major sponsor of the AIBA.
This year's Awards attracted over 2,000 entries from 358 breweries in 36 countries.
"These awards are testament to our brewing team's unwavering dedication to the brewing process and the long list of awards achieved throughout the years are evidence of our commitment to excellence in quality. We are extremely proud of our brewing tradition and heritage," commented Mr Martin Polidano, Head Brewer at Simonds Farsons Cisk plc.
Cisk Lager is not new to winning awards, having won numerous awards over the years. This, however, is the first award for Cisk Pilsner, launched locally just last summer. Cisk Pilsner is a premium Pilsner combining a tradition of brewing excellence and passion with the finest quality Pilsen malt and Noble hops of the Saaz variety. Cool, crisp and immensely satisfying, with an alcohol content of 5.5%, Cisk Pilsner offers the discerning beer connoisseur a remarkably crisp and well-hopped flavour with a rich white head, a delicate bitterness and a superior aroma originating from the rich essential oils present in the Noble hops.
The AIBA awards for Blue Label Original Amber Ale and Double Red Strong Ale mark the second recognition for beers in the Farsons Classic Brews range, also launched last year. In November 2016, just a few months after their launch, these brews were recognised for the quality and excellence and awarded silver and gold respectively at the Brussels Beer Challenge. Blue Label Original Amber Ale is an amber coloured, top-fermented ale, hopped and mixed with a special type of mild malt that gives the richly coloured ale a unique, smooth and mild taste. Double Red Strong Ale is an all malt and full bodied strong ale with a deep ruby color and a pleasant hoppy bitterness, balanced out by a malty and fruity sweetness.
Cisk Lager is available in several formats including draught, cans and glass bottles, whilst Cisk Pilsner, Double Red Strong Ale and Blue Label Ale are available in 33cl glass bottles, with the latter also being available on draught and in cans in the hugely popular Smooth & Creamy version.