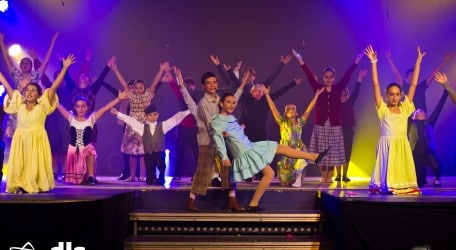 Photo by Daniel M Photography
DLS Productions is a fresh Maltese theatre group with bucket-loads of drive and enthusiasm, backed by Lasallian values and unquenchable ambition. This is where stars are made.
After 30 years of hard work with a few downs but with a lot of  ups, the time has come for a few changes that will take drama to a whole new level. DLS Productions, is the new name that the drama group has taken on, and with this new name come loads of new adventures!
Bigger and better has always been a motto for DLS Productions. With every year that passes the group tries to make new ambitious goals, to reach new standards and new heights with every production we've put up. These targets have always been reached and Destination Musicals: One More Time, in November 2012, was of an exceptional level. So what do you do when you've exceeded your expectations? Reach for something even bigger of course! Hence a new concept was created.
New Logo and New Identity as of March 2013
The logo is based on the five-pointed star – a symbol of the De La Salle roots and the core Lasallian values – with a modern twist to emphasise the group's love for modern and hi-tech theatre. The dynamic identity takes a cue from the role of an actor/actress – a person with many faces. The logo can be "dressed up" for every occasion, an embodiment of the improvisational spirit of theatre.
So what are these new expectations?
Instead of the traditional yearly production, DLS Productions is working towards two large-scale productions this year, together with a few other smaller projects. The two shows in the pipeline are Dazzle and Carmen.
But the group's 2013 theatrical year will be starting sooner than expected with One Acts, a production of One Act Plays that is being held on 12th April at DLS College. Entrance for this event is Free. The aim of this production is encouraging new Actors, Directors, Producers and people that want to learn about the theatre world, to be a part of it.
DAZZLE is the summer musical that will be put up this September at DLS College. "The thrilling story of Poppy Pringle and the DazzleBay fun palace" is a show packed with drama and humour.
DLS Productions' biggest ambition this year is the production of Carmen. We are confident in exceeding the outcome of all our previous productions, by taking our musical extravaganza to the next level. CARMEN, written by Lucienne Camilleri, is a rock musical built on the plot of Bizet's opera, and intrigued into a well-adapted modern layout. The shrewdly adapted music varies from U2 to Guns n' Roses, and will be rocked out with a live band. This musical will be put up this November 2013 (dates and theatre venue to be confirmed later on).
Auditions for both Dazzle and Carmen have already been held, where some 100 people came forward, with some new comers, to audition for these two shows.
Some workshops with foreign tutors are also in the pipeline for the near future.
For more information about DLS Productions please visit our Facebook page: www.facebook.com/dlsdrama
You can also follow DLS Productions on Twitter: @dlsdrama, or contact via email: i[email protected]. A website will be launched soon.