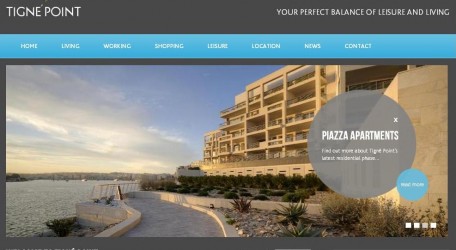 MIDI p.l.c. and Tigné Point have launched new enhanced websites that offer visitors an easy-to-navigate platform from where they can access real-time information about the developments.
Designed by Think, a leading local web development company, the two new sites – www.midimalta.com and www.tignepoint.com  have a wealth of up-to-date and interactive information about the organisation's functions including availability of apartments for sale, corporate information, ongoing restoration works, visually stunning photos and regularly updated news and image galleries.
"This commitment is part of the organisation's on-going effort to enhance the quality and availability of resources for the benefit of shareholders, bondholders, associates, agents and local and foreign buyers" said James Vassallo – Senior Manager, Sales and Marketing at Tigné Point.
Chris Cutugno, Director at Think added: 'We are proud of the work we have done for Midi plc. The site specifications were demanding and the information was substantial but we feel that the overall result conveys the project to visitors and interested parties in a concise, organised and informative manner and feedback to date has been very positive.'
These new websites reflect the look and feel of the MIDI and Tigné Point brands and include information about both the Tigné Point and Manoel Island projects as well as links to the group's subsidiary companies.