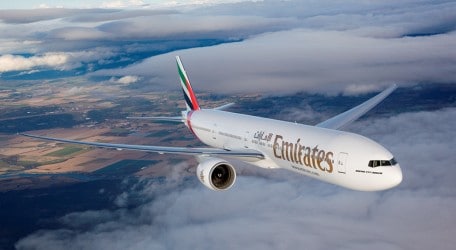 Emirates will operate a daily service to Luanda, Angola's capital city, starting 1 December 2013 with the addition of four extra flights per week.
Emirates started services to Luanda with three times per week flights on 25 October 2009 using an Airbus 330-200. To meet increased demand, the aircraft was upgraded a year later to a Boeing 777-200 ER and seven months thereafter to the current Boeing 777-300 ER.
"The increase in flights to a daily service is a clear indication of the route's success and its future growth potential. Angola is Africa's second largest oil producer with a strong mining sector, and is one of the fastest growing economies in the world, making it an attractive business destination," said Orhan Abbas, Emirates Senior Vice President, Commercial Operations Latin America, Central and Southern Africa.
The Boeing 777-300 ER, which is the backbone of the Emirates fleet, features eight luxurious First Class private suites, 42 lie flat seats in Business Class and generous space for 310 passengers in Economy Class. Customers can enjoy Emirates' world-famous service by its multi-national cabin crew, gourmet cuisine and nearly 1500 channels of on-demand audio and visual entertainment on its award-winning ice system.
Passengers travelling First Class have a very generous baggage allowance of 50 kg, while the allowance in Business Class is 40kg and in Economy Class 30 kg.
Emirates SkyCargo, the freight division of Emirates, will also offer an increased cargo capacity of 120 tonnes per week into Luanda.
Emirates operates four scheduled flights weekly from Malta to Dubai via Larnaka, Cyprus, on Mondays, Wednesdays, Fridays and Saturdays. While on Sundays, Tuesdays, and Thursdays, Emirates operates direct flights from Dubai to Malta and return flights fly via Tripoli.