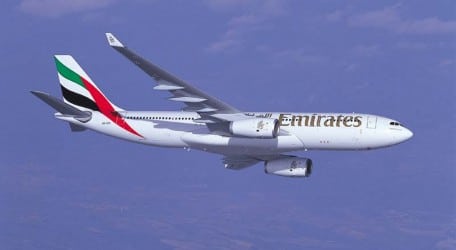 Emirates, a global connector of people and places, will serve Malta with a second daily flight from 1st August 2014. This news follows the pre-entry visa exemption applicable to Maltese citizens visiting UAE from 22nd March 2014.
Emirates' A330-200 aircraft will be flying on a daily scheduled flight between Dubai and Malta via Larnaka, Cyprus, and on a second daily scheduled non-stop flight on A340-500 from Dubai to Malta, with the return trip flying via Tripoli. Altogether the two aircrafts will add capacity of 917 seats a week in each direction and an additional 90 tonnes of cargo capacity per week in each direction.
Maltese travellers will be able to enjoy once again daily access to Larnaka, Cyprus, which currently is operating on a four times weekly basis. Due to the growing demand by travellers from Tripoli, a second daily service will also commence from 2 August 2014, less than a year after the re-introduction of the Tripoli route via Malta last September.
Paul Fleri Soler, Malta Manager, said: "Emirates' decision to re-introduce a daily service to Malta via Larnaka is a direct result of a surge in customer demand. The enhanced schedule will offer better connectivity for our business and leisure customers when travelling between Malta and Dubai, and onwards eastward to the rest of our network in the Indian subcontinent, Africa, Far East and Australasia. At the same time, this is going to add connectivity to Cyprus which should prove to be a great attraction for a summer holiday with family or with friends considering that it's only two hours away."
The airline's Airbus 330-200 aircraft will feature 237 seats in a three class configuration – 12 First Class suites, 42 Business Class suites and 183 Economy Class seats. Flight EK107 will leave Dubai at 0820hrs to reach Larnaka at 1105hrs and departing Larnaka at 1215hrs to arrive in Malta at 1410hrs. The return flight EK108 will depart Malta at 1545hrs, and will arrive in Larnaka at 1910hrs, departing Larnaka at 2020 and will arrive in Dubai at 0110hrs the next day.
The second service will be operating by an Airbus 340-500 also in three class configuration of 12 First Class suites, 42 Business Class and 204 Economy Class. EK745 on the Dubai-Malta-Tripoli-Dubai route will leave Dubai at 0930hrs, and will arrive in Malta at 1305hrs. The service leaves Malta at 1455hrs to reach Tripoli at 1555hrs, departing Tripoli at 1724hrs and will arrive in Dubai at 0100hrs the next day.
On board, passengers will be able to enjoy Emirates' renowned inflight service from a multi-lingual crew from over 120 countries, gourmet on-board dining and multi-award winning inflight entertainment system, ice Digital Widescreen, featuring up to 1,600 channels of movies, TV programmes, games, and music.
Adding to the airline's extensive product offering, customers travelling in all classes enjoy generous baggage allowances – 30 kilos in Economy Class, 40 in Business Class and 50 in First Class.
Emirates SkyCargo, the airline's award-winning cargo division, will offer 17 tonnes of belly-hold capacity on every flight to further increase the trade opportunities between Dubai-Larnaka-Malta and Dubai-Malta-Tripoli.
With a fleet of 213 aircraft, Emirates operates services to 142 destinations in 80 countries from Dubai.
Currently Emirates operates a daily scheduled flight from Malta to Dubai. On Mondays, Wednesdays, Thursdays and Saturdays Emirates flies via Larnaka, Cyprus, while on Sundays, Tuesdays, and Fridays, the airline operates direct flights from Dubai to Malta and return flights fly via Tripoli.
Maltese citizens travelling to Dubai need to check that their respective passport has a minimum validity of three months at the time of travelling to Dubai and that the duration of their stay is of not more than 30 days.