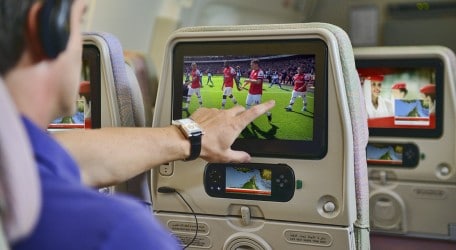 Special fares to selected destinations in the Middle East, Asia, South Africa and Australia for departures until 14th December 2013
Emirates, one of the world's fastest growing airlines, is offering special fares for Economy Class to travellers from Malta. Business and leisure travellers can enjoy Emirates' world class service and products at a great price when booking and purchasing tickets to more than 60 selected destinations from 1st to 21st September 2013 for outbound travel between 1st September and 14th December 2013.
Passengers can book a return flight from Malta to Bangkok for €654, to Beijing is €753, Maldives is €788 and to Cape Town and Johannesburg for €791. The Economy fares to Rio de Janeiro and Sao Paulo are €893 and €894 respectively and the price to Brisbane is €1,211. The offer price to Clark and Manila in the Philippines is €867, and Mumbai is just €635. Prices are inclusive of taxes and fuel surcharge.  Terms and conditions apply.
Emirates Manager for Malta Paul Fleri Soler said: "Emirates opens doors to life experiences in diverse corners of the world. These special fares offer tremendous value for travellers from Malta setting their sights on long-haul destinations. It is a great opportunity to visit one of these destinations within the Emirates network."
Emirates operates flights on a daily schedule from Malta to Dubai on a Boeing 777-200 aircraft and arrives at a convenient time for onward connections to the Middle East, Far East, Asia, South Africa and Australasia.  Aboard the aircraft, gourmet chef-prepared meals are served in all cabin classes by highly trained, multi-national cabin crew. The airline provides Emirates' award-winning ice inflight entertainment system with hundreds of channels of movies, television programmes, music and games in every seat.
Luggage allowances are amongst the most generous in the industry with 30kg of check-in baggage permitted in Economy Class.
Emirates currently serves 134 cities across six continents with a young, technologically-advanced fleet of 201 wide-bodied aircraft that are equipped with industry-leading comforts.
From 1st September onwards Emirates is operating four scheduled flights weekly from Malta to Dubai via Larnaka, Cyprus, on Mondays, Wednesdays, Fridays and Saturdays. While on Sundays, Tuesdays, and Thursdays, Emirates operates direct flights from Dubai to Malta and return flights fly via Tripoli.
For the complete list of special economy fares and flight bookings one can visit www.emirates.com/mt or contact Emirates Sales Office at MIA (Departures Lounge) tel 2557 7255 or the respective travel agent.