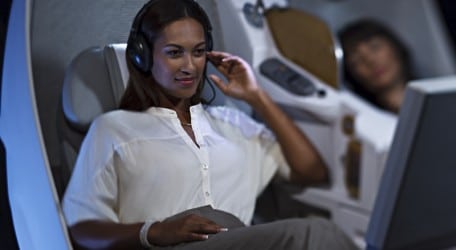 Fifteen years after launching services to Malta, Emirates airline's commitment to the market remains as strong as ever. Providing the Maltese with a vital daily link to the East, Emirates has a direct positive impact on the Maltese economy, carrying over 490,000 passengers since 1998.
"Malta was among the first European countries to be served by Emirates. It was the eighth European destination and the 41st destination worldwide," said Paul Fleri Soler, Country Manager for Malta. "The airline has quickly grown to a major carrier in Malta. During the last 15 years Emirates has continued to reaffirm its commitment by upgrading its capacity with a Boeing 777-200 aircraft, helping us meet the growing passenger demand and enhancing trade opportunities."
Ranked as the major scheduled carrier eastbound out of Malta, Emirates operates daily flights to Dubai with an option to stop in Larnaka, Cyprus.  With the recent aircraft upgrade, Emirates is now servicing the Malta – Cyprus – Dubai route on a Boeing 777-200 offering a total of 274 seats in a 3-class configuration with 12 First Class, 42 Business Class and 220 Economy Class seats.
In addition to passenger service, Emirates SkyCargo has increased its belly-hold capacity from 13 tonnes to 17 tonnes on the Boeing 777-200, further increasing trade prospects for Malta across the Emirates network. Key exports from Malta include pharmaceuticals, electronic products, live animals and refrigerated goods such as fresh fish, while some of the main imports are technical and mechanical equipment, textiles, live fish, fresh food from the Far East and fresh fish from the Middle East.
Passengers travelling in First Class or Business Class on Emirates flights can take advantage of Emirates complimentary chauffeur-drive service to and from the airport in addition to a generous baggage allowance of 40 kgs. Premium travellers and Skywards Gold members also have exclusive access to La Valette Club at Malta International Airport and to the Emirates dedicated lounges at major international airports, including Emirates Terminal 3 in Dubai.
Although various Emirates' long haul destinations like Australia, the idyllic islands of Mauritius, Maldives and the Seychelles in the Indian Ocean, China, Thailand and South Africa are increasingly appealing to travellers from Malta, flights to Dubai and Cyprus remain the top selling destinations both for holidays and for business.
Emirates currently serves 133 cities around the globe with a young, technologically-advanced fleet of 200 wide-bodied aircraft that are equipped with industry-leading comforts. Additionally Emirates is the largest operator of the Airbus A380 and the Boeing 777s.
"Emirates has redefined air travel and we look forward to offering a unique A380 experience to our global travellers. When it comes to travelling, Emirates, now flying under the banner of 'Hello Tomorrow', goes to great lengths to ensure comfort, efficiency and attention to detail for passengers," added Mr Fleri Soler.
Continues on page 2/…
09.05.2013
Emirates marks fifteen years in Malta / page 2
With the new official partnership announced in March 2013 between Emirates and Qantas, Maltese travellers and Maltese Australians will benefit from a seamless Australian and international network, frequent flyer benefits, lounges and travel experiences. The two carriers offer the largest joint fleet of Airbus A380s and Maltese passengers will be welcomed through Concourse A, the world's first, purpose built A380 concourse, at Dubai International Airport.
Offering exceptional and innovative features, the Emirates A380 provides the industry first Shower Spas, the First Class and Business Class on-board lounge, and an award-winning inflight system offering 1400 channels of on-demand entertainment as well as gourmet cuisine in all three classes.
In November 2012, Skywards, Emirates' frequent flyer programme, inked a deal with easyJet, Europe's fourth largest airline, which allows for redemption of Skywards Miles for flights on easyJet, which flies to over 30 countries across Europe and North Africa.
The start of 2013 brought about the launch of two new routes – Warsaw on 6th February and Algiers on 1st March 2013. In addition the airline is also expanding to Haneda in Tokyo, Japan on 3rd June and Clark in the Philippines on 1st October with more routes slated to be announced later this year.
Emirates employs 130 Maltese nationals, including 89 Cabin Crew and 11 flight Deck Crew who are mainly based in Dubai.  The airline seeks to recruit cabin crew members on an average of three times a year. The second recruitment session in Malta this year will take place on 11th May.
Flight information and bookings can be obtained from Emirates Sales Office, tel no: 2557 7255 or the preferred travel agent, or at www.emirates.com/mt
Ends