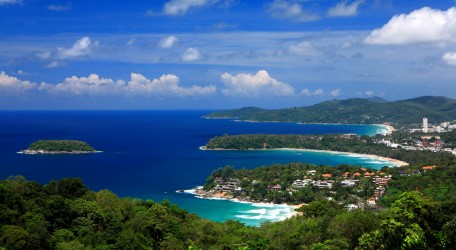 Emirates' first commercial flight to southern Thailanddeparted Dubaion Monday, 10 December with the launch of the non-stop, daily service to Phuket.
Phuket has become the airline's 128th destination and the service will significantly boost the city's international flight capacity and connect it to Emirates' ever growing global network across six continents. The launch also signifies Emirates' commitment to Thailand, a country that the airline has been flying to since 1990 when it began flights to Bangkok.
"The launch of our non-stop, daily service between Phuket andDubaiperfectly coincides with the upcoming festive season with Phuket being a favourite destination for many holidaymakers.  This heralds a new level of connectivity for theIslandwith Emirates' international network of more than 120 destinations," said Mr Obaidalla.
"Emirates has a long standing affiliation withThailandand the country is indeed an important market for Emirates. This newly launched service will supportThailand's tourism sector by enhancing inbound arrivals from the UAE, the larger Middle East region as well as traditional markets likeEurope," added Mr Obaidalla.
The launch of a daily non-stop flight to Phuket, operated by an A340-300 with a belly hold capacity of 13 tonnes, will take Emirates SkyCargo's weekly cargo capacity into and out of the country to more than 640 tonnes.  This capacity is spread across four flights toBangkokand one to Phuket.
Emirates operates flights on a daily schedule from Malta to Dubai via Larnaka,Cyprus.