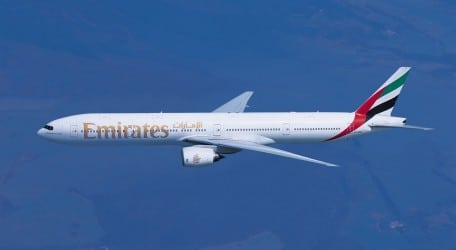 35 weekly flights to Singapore from Dubai
Emirates, a global connector of people and places, announced that it will introduce a fifth daily flight between Dubai and Singapore starting 1st August 2014.
This will bring Emirates' total number of flights between the two cities to 35 a week, with 28 non-stop services and seven flights via Colombo, in addition to Emirates' daily services from Singapore to Brisbane and Melbourne.
"The introduction of our fifth daily service between Dubai and Singapore is a reflection of the growing passenger demand for flights between these two important global business, trade and tourism hubs. The increased frequency will give our customers greater flexibility in their travel plans allowing them to connect seamlessly to other flights on Emirates' extensive global network," said Barry Brown, Emirates' Divisional Senior Vice President, Commercial Operations East.
Emirates will operate a 364-seat Boeing 777-300, with 12 First Class seats, 42 Business Class seats and 310 Economy Class seats, for this additional Dubai – Singapore non-stop service.
In addition to passengers, Emirates SkyCargo will operate belly hold cargo space to help transport goods such as ship spare parts, mobile phones and various other electronic goods to and from Singapore.
This year, Emirates has already introduced services to Kiev, Taipei and Boston and has announced the start of services to Abuja and Kano, Nigeria (1st August); Chicago, USA (5th August); Oslo, Norway (2nd September) and Brussels, Belgium (5th September).
Emirates operates daily scheduled flights from Malta to Dubai using a Boeing 777 aircraft. On Mondays, Wednesdays, Thursdays and Saturdays Emirates flies via Larnaka, Cyprus, while on Sundays, Tuesdays, and Fridays, the airline operates direct flights from Dubai to Malta and return flights fly via Tripoli. Moreover from 1st August, Emirates will be operating twice daily flights between Dubai and Malta – one service will fly daily via Larnaka and the second service will return to Dubai via Tripoli.