The Emirates Group announced its half yearly results which remain robust despite continued global economic pressure and continued high fuel prices.
The Emirates Group posted a US$ 575 million net profit for the first six months of its current fiscal year ending 30th September 2012, up 68% from US$ 343 million from 30th September 2011.
"The Emirates Group half-year performance is the result of hard work and our drive to stay on course and continue to grow despite the precarious marketplace," said His Highness (HH) Sheikh Ahmed bin Saeed Al Maktoum, Chairman and Chief Executive, Emirates Airline and Group.
Even with a challenging operating environment, the Group continued to invest in and expand on its employee base, increasing its overall staff count by more than 8 per cent in just six months to nearly 68,000.
During the first six months of the fiscal year Emirates received two A380s and ten Boeing 777s and one freighter, with more than 15 new aircraft scheduled to be delivered before 31st  March 2013.  Emirates added five new destinations –Ho Chi Minh City,Barcelona,Lisbon, Erbil and Washington, D.C – that have joined the 10 new routes added since 30 September 2011, for a total of 15.
Emirates airline continues to be one of the fastest growing airlines in the world. In spite of unstable global economic, geopolitical and environmental conditions Emirates continues to make a profit. In the first half of the 2012-13 fiscal year, Emirates net profit is US$ 464 million, up 104% from US$ 228 million.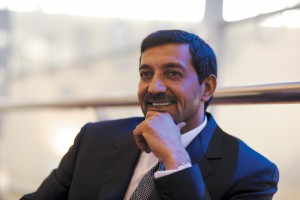 "Emirates remained focused on its growth and global expansion despite on-going fluctuating exchange rates and ever lingering high fuel prices which accounted for 39 per cent of our expenditures, down 2 percentage points from last year," said HH Sheikh Ahmed (pictured above). "The instability in the market over the past six months has put Emirates to the test, and once again we have risen to the challenge, our results speak for themselves."
Emirates is now flying to 126 destinations up from 114 last year, to 74 countries compared with 67 last year. Additional new routes to be added this fiscal year include Adelaide, launched on 1st November and the routes of Lyon, Phuket, Warsaw and Algiers.
New A380 destinations for the airline for the first six months of fiscal year 2012-13 included Tokyo and Amsterdam, bringing the total number of A380 destinations to 19.
Passenger Seat Factor was sustained at a high level, averaging 80 per cent, slightly above last year's 79 per cent. Emirates carried 18.7 million passengers since 1st April 2012, up 15.4% for the same period last year. The volume of cargo uplifted was up by more than 16%.
In the summer of 2012, the financial community continued to show confidence in Emirates as the airline successfully raised financing for four A380s.
Emirates flies daily between Dubai, Larnaka and Malta.