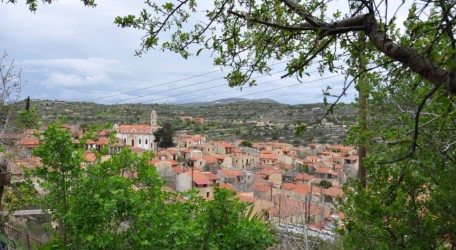 Pictured above: Picturesque villages nestled in the Troodos Mountains
Travel to Cyprus in autumn, winter or spring with Emirates, the Dubai-based international airline that flies daily from Malta to Larnaka, Cyprus. Passengers booking a flight to Cyprus between the 1st of November 2012 and the 31st of January 2013 will get a complimentary second ticket (excluding taxes) for a companion.
The Malta-Cyprus-Malta full fare in Economy Class starts at €290, (including taxes), and the companion passenger pays only for the taxes and fuel charge which amounts to €68.  The offer is valid for two passengers travelling together and confirmed on same booking. The outbound travel period is from 1st November 2012 until 31st May 2013; terms and conditions apply.
Whether one travels toCyprusfor business or for a holiday, there is plenty to discover and an amazing range of things to see and do. Apart from its beach resorts, there are forests and mountains, deep valleys and flat fertile plains full of citrus groves and vineyards, intriguing archaeological sites, and numerous quaint villages to discover.
The island is dominated by theTroodosMountains, whose pine and oak covered slopes are often covered in snow during winter. The beautiful landscapes in the mountains and the surrounding villages are an attraction and a unique feature for visitors.
Moreover, most Cypriots speak English and drive on the left hand side of the road, and it is the same as inMalta.  Visitors can hire a car, explore the beautiful island at leisure, and visit own typical tavernas offering a vast selection of mezes.
Paul Fleri Soler, Manager forMalta, Emirates Airline, said: "The Companion Fare is a great opportunity for our clients to enjoy a relaxing break inCyprusand is one of the best value-for-money offers from Emirates.  The offer also coincides with the end of year festive holiday season and Easter time, when many Maltese go on holiday."
Emirates Airline flies daily betweenMaltaandCyprususing an A340-300 aircraft. Flight EK 108 leavesMaltaat 2.45pm and arrives in Larnaka at 6.10pm. Flight EK 107 leaves Larnaka at 11.30am and arrives inMaltaat 1.20pm.
Bookings and further information can be obtained from Emirates Sales Office on Tel: 25577255 or the local travel agent. This offer is also available through online booking www.emirates.com.mt