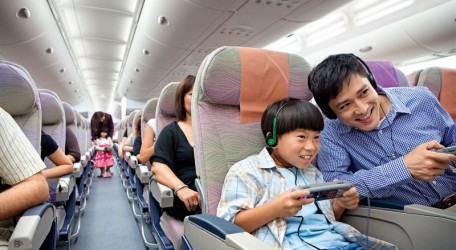 Emirates, the international airline of the UAE that flies daily to Dubai and more than 120 destinations beyond, is offering passengers from Malta attractive Economy Class fares on selected routes.
The fares are for travel to Larnaka (en route to Dubai), Bangkok , Beijing , Mumbai, Delhi,, Johannesburg, Nairobi, Rio de Janiero, Sao Paolo, Buenos Aires, Kuwait and the new service to Ho Chi Minh City in Vietnam. The offer is valid for booking and outbound travel until 30 June 2012. Terms and conditions apply.
On Emirates, designed seats, extra legroom and superior service ensures that travelling in Economy Class stands out from the competition.  Wherever one travels, comfort, convenience and exceptional service are part of the Emirates' experience.
Once on board, Economy Class travellers will easily find that they can relax and sit back in the spacious seats and enjoy the inflight entertainment system and gourmet chef prepared cuisine in all classes.
Customers can also make use of in-seat telephones, SMS and email and BBC news headlines, an air show moving map and external cameras for a bird's eye view of the journey en route.
Across six continents, Emirates flies to 123 destinations by operating one of the world's most modern airline fleets of 171 wide-bodied aircraft. Its flagship, the Emirates' A380, is available from Dubai for many destinations across Asia, the  Far East and Australasia.
Emirates flies daily to Dubai. After a short stop in Cyprus, one arrives in Dubai with convenient connection times to destinations as far afield as Buenos Aires and San Francisco in the west to Osaka and Christchurch to the east. From Malta, there is also the option of stopping in Larnaka, Cyprus.
Emirates aims to connect people and cultures through the shared experience of travel. For this purpose, Emirates has recently launched a new global brand platform aptly called Hello Tomorrow.
One can find out more about Hello Tomorrow and the special offers by visiting Emirates refreshed website: www.emirates.com/mt
Ends