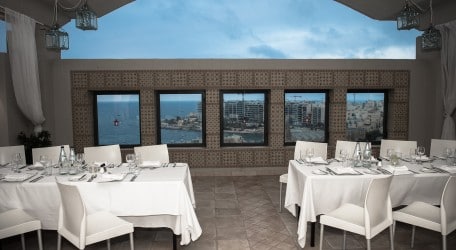 With the heat of the peak season, outdoor venues flourish on the island, opening their doors to visitors in search of a great summery vibe and a pleasant evening breeze. Le Méridien in Balluta Bay presents a great and fashionable outlet worth discovering this summer: La Bajja Rooftop Restaurant.
The ideal place to surrender to a magical experience is at La Bajja outdoor restaurant, on the rooftops of Le Méridien St Julians Hotel & Spa. This inspiring summer venue offers an unexpected viewpoint on pretty Balluta Bay. La Bajja rooftop restaurant opens every evening throughout summer with a pleasant à-la-carte menu. Perched on the 12th floor of the hotel, you will enjoy fantastic views and a welcomed refreshing summer breeze whilst indulging in Le Méridien creative cuisine. The beautiful set-up of the place is a sweet temptation to let ourselves be enchanted with a little 5 star treat.
FIREWORKS BBQ
With this new attractive outdoor restaurant, the hotel boasts the perfect spot for everyone to enjoy a clear view of the sparkling skies during the most popular feasts of the area. For €25 per person, you are invited to indulge in an extensive barbecue selection, comfortably seated above the street celebrations' vibes. This is without a doubt the ideal solution to admire the flashing lights of the fireworks whilst the cracking sounds of the grill promise a mouth-watering dining experience. The bar of the restaurant is also open to the public with no dining obligation.
La Bajja rooftop restaurant organizes succulent barbecue nights under the beautiful fireworks of the following feasts:
Saturday 27th & Sunday 28th of July, Feast of our Lady of Mount Carmel (Balluta Bay) | Sunday 25th of August, Feast of St Julians | Sunday 1st of September, Feast of San Girgor.
Restaurant / bar opening: 7.30pm
Barbecue: 8pm
Fireworks: around 10pm
More information:
www.lemeridienmalta.com/labajja
www.lemeridienmalta.com/summer2013
Info and bookings: 2311 0000