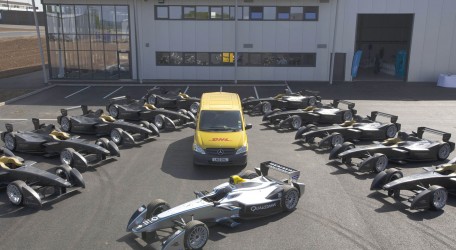 Official Logistics Partner DHL makes first delivery of cars to ten teams participating in next-generation racing championship
DHL, Official Logistics Partner and Founding Partner of the FIA Formula E Championship, safely delivered the very first fully-electric Spark Renault SRT-01E race cars from Paris-based Spark Racing Technology to the new Formula E headquarters and team facilities at Donington Park Racing Circuit in the UK on 15 May, 2014.
As part of the official opening of the new facilities, and ahead of the first track test at Donington Park next month, each of the ten teams took delivery of one race car, with a further ten cars to be delivered by mid-June.
"In just a few months, the world will witness the inauguration of a thrilling new form of motorsport around the streets of Beijing, and other great cities around the globe," said Ken Allen, CEO, DHL Express. "Formula E will not only deliver entertainment and excitement for all the family, but will also play an important role in the promotion of sustainable transport solutions.
"As the world's leading logistics company, with one of the largest fleets of alternative drive vehicles in the industry worldwide, DHL is proud to be a Founding Partner of Formula E and incredibly excited to be joining them on their pioneering journey."
DHL, through its GoGreen environmental protection programme, was the first international logistics provider to set a measurable carbon efficiency target. The company has committed to reduce its carbon footprint by 30% by 2020 vs. 2007 levels through a range of initiatives, including the use of sustainable fuel sources, modern, efficient aircraft and over 10,500 alternative vehicles.
Its specialised motor sports team, with over 26 years of experience, will ensure that green transport modes, carbon measurement and offset tools, and the most efficient and optimal logistics solutions, are deployed in delivering Formula E to its worldwide audience.