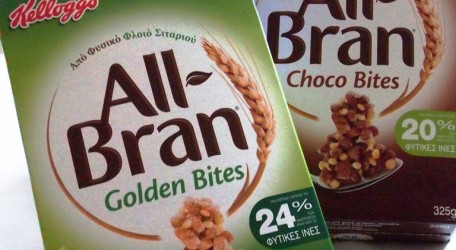 Kellogg's new high-fibre All-Bran Golden Bites and All-Bran Choc Bites have hit the retail shelves in Malta. Made with wheat bran and oven baked into tasty clusters, these light and crunchy multi-grain cereal varieties come either in a delicious caramel or chocolate flavour giving consumers a simple and tasty way to manage their digestive health.
It has been heard before, and it is true! Breakfast is really the most important meal of the day. This is because after a night's rest without eating, the body and the brain are ready to be refuelled.
A high-fibre diet can play an important part in one's digestive health and at the same time help to feel lighter and more energetic. Digestive health is becoming more topical than ever as many people experience discomfort and All-Bran can provide a clear and everyday solution to this problem.
"High fibre cereals do not need to be tasteless. Kellogg's All-Bran Golden Bites and All-Bran Choc Bites are made with natural wheat bran fibre that are great to eat and good for the body. Breakfast is one of the best fibre opportunities of the day, and the new All-Bran varieties underline Kellogg's commitment to provide a nutritious healthy breakfast that tastes delicious," said a Kellogg's spokesperson.