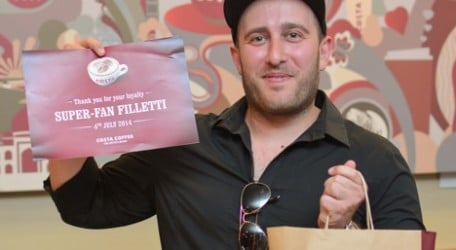 Costa Coffee treated all of Valletta to a coffee and muffin breakfast this morning, inviting all neighbouring residents, businesses and passers-by to try out selected products on the house.
"Everyone loves to start their day with a good coffee so we thought this would be a great way to introduce ourselves to our new neighbours. We hope we brightened up everyone's Friday morning in time for the weekend," said Rachelle Tabone, Marketing Manager.
Situated on the ground floor of the Embassy Shopping Complex, this is the sixth Costa Coffee store opened by The Coffee Company Malta Ltd, since it opened two years ago.
"We're very excited to finally have a store in our great capital city. This morning was all about greeting and treating our customers to the coffee that is the core of our business to the people who are at the heart of our business," said Dr Robert Buttigieg, General Manager of Costa Coffee Malta, yesterday.
Robert Filletti, who works in Valletta and has spent months asking Costa Coffee to open a store nearby, was treated to an extra special welcome. As a token for his continued support for the brand, he was rewarded a certificate naming him a Brand Ambassador and a hamper of goodies which included a Costa Coffee travel mug, vouchers and some delicious muffins and brownies.
"Costa Coffee manages to make drinking coffee a better experience than all the rest, so when they opened up a store in Valletta, which is where I work, I was really excited. Costa Coffee are the real deal," Mr Filletti said.
At the same time, Costa Coffee are running a scratch card campaign throughout summer around their selection of iced drinks. With every Costa Ice beverage purchased from any of the Valletta, Balzan and The Point outlets, customers are gifted with a scratch card that entitles them to one of 10,000 prizes, varying from Costa Coffee beach balls and beach bags to a one night's stay at Radisson Blu Resort and Spa, Golden Sands.
Costa Coffee is an established coffee shop brand that was founded by two Italian brothers, Sergio and Bruno Costa, in London in 1971. Today, it forms part of Whitbread plc's brand line-up in the UK. In 2008, Costa Coffee announced that every single cup of coffee sold by Costa is grounded from beans only sourced from Rainforest Alliance certified farms.
For more information, visit www.facebook.com/CostaCoffeeMalta