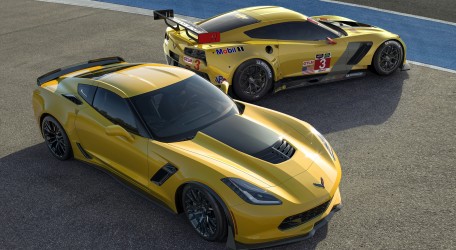 Chevrolet unveiled its new Corvette C7.R race car for the first time in Europe at 84th Geneva Motor Show today. It was co-developed with the all-new Corvette Z06. They represent the closest link in modern times between Corvettes built for racing and the road, sharing unprecedented levels of engineering and components including chassis architecture, engine technologies and aerodynamic strategies.
"Technology transfer between racing and production cars and engines is a key reason why Chevrolet races," said Jim Campbell, U.S. vice president, Performance Vehicles and Motorsports. "Lightweight chassis, direct-injection technology and aerodynamic packages that create optimal downforce are just a few of the examples of the link between Corvette C7.R and Corvette Z06. Our goal is continual improvement at every event, and that is critical when racing against global competitors."
Corvette Racing is fielding two C7.R race cars in 2014, which saw their competition debut at the 52nd Rolex 24 at Daytona on Jan. 25-26. The C7.R will compete in the GT Le Mans class in 11 races around North America.
The team is also is expected to compete in June at the 24 Hours of Le Mans – a race Chevrolet and Corvette Racing have won seven times – in the GTE Pro class.
Since the team's competitive debut in 1999 with the Corvette C5-R, Corvette Racing has earned unmatched success. The C5-R and C6.R led Chevrolet to 90 victories around the world and 10 manufacturer championships in the American Le Mans Series. In 2013, Corvette Racing won five races and swept the manufacturer, team and driver championships in the GT class for a second consecutive season.
A key part of the team's success is the technology transfer between Corvette production cars and race cars.
"Corvette Racing sets the gold standard for technology transfer between the track and street," said Tadge Juechter, Corvette chief engineer. "We are continually taking what we learn in competition, and applying it to improve production Corvettes – which then make better race cars. As a result, the new Corvette Z06 is the most track-capable production Corvette ever while the new C7.R is poised to be even more competitive on the race circuit."
Ford Showcases New Focus at Geneva; Delivers Advanced Technology, Fine Craftsmanship and Improved Efficiency
Ford showcased at the Geneva Motor Show the new Ford Focus Focus that elevates the world's best-selling nameplate with a bolder, more emotive exterior design, a finely crafted, intuitive new interior, a suite of life-enhancing new technologies and major fuel economy improvements.
The new Focus's sporty character and driving appeal is burnished by a striking horizontal grille, a cockpit-inspired interior and available paddle shifters. The new Focus, on sale from the second half of 2014, also marks the European debut of SYNC 2, Ford's advanced in-car connectivity system, as well as the new 1.5-litre EcoBoost petrol and TDCi diesel engines.
Ford first launched the Focus in 1998 and since then more than 12 million have been sold worldwide, including 6.9 million in Europe. The current Focus was confirmed last month as the world's best-selling vehicle nameplate based on Ford's analysis of the Polk registration data for the first nine months of 2013. Ford estimates Focus sales globally reached 1.1 million in 2013, including more than 300,000 in China, making it the best-selling passenger car in the fastest-growing new car market in the world.
Sophisticated design
Offered as a four-door, five-door, and wagon, Ford has crafted a more sophisticated and advanced Focus with a redesign that reflects the One Ford global design language that carries through the new Mondeo and Fiesta.
Available in additional new exterior colours Deep Impact Blue and Glace Blue, the new Focus has a lower, wider stance, with a new bonnet, front fascia and grille. The bonnet is sculpted with a dynamic shape from the front pillar to the corners of the upper part of the inverted trapezoid grille to deliver a strong, proud look.
The new Focus will be the first vehicle in Europe to offer SYNC 2. Ford's advanced in-car connectivity system features a high-resolution, 8-inch colour touch screen and advanced voice control for easier access to audio, navigation, climate control and compatible mobile phones.
SYNC 2's navigation system also offers for the first time in Europe a split-screen display with detailed intersections, spoken street names, 3D highway junction and landmark views, and the MICHELIN guide. SYNC 2 enables drivers to issue simpler "one-shot" navigation destinations, and to ask the system to "play" a desired artist. Simply pushing the voice control button and saying "I'm hungry" will bring up a list of local restaurants, which you can then get directions to.
The new Focus takes the model's acclaimed fun-to-drive DNA up a level with enhanced handling and steering. Ford engineers have delivered a more solid, responsive and connected-to-the-road feel by increasing the structural stiffness at the front, revising the suspension geometry, increasing lateral stiffness of "steering-relevant" suspension bushes, retuning the shock absorbers and incorporating a new Electronic Stability Programme. The Electric Power Assist Steering also has been retuned to make the driver feel even more connected to the road.
The new Focus is the first Ford to offer Perpendicular Parking, a new hands-free parking technology that helps drivers reverse into spaces alongside other cars.
Ford also is introducing to Europe the Pre-Collision Assist system. This works in a similar way to Active City Stop but with a much greater vehicle detection range to support the driver  at higher speeds, for example on the motorway, by issuing warnings and if necessary applying braking.
New Focus also will be equipped for the first time with Ford's MyKey technology. MyKey enables owners to programme a key – usually for younger drivers – that restricts the top speed, reduces the maximum volume of the audio system, and can disable it altogether if driver and passengers are not using safety belts. The system can prevent the driver from deactivating safety technologies such as Electronic Stability Control and Active City Stop, which can help mitigate or prevent low-speed collisions.