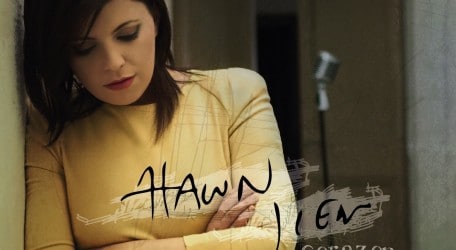 Hawn Jien is Corazon's debut album as a singer-songwriter, consisting of 11 original songs in Maltese. The album was launched last Saturday before a packed Sir Temi Zammit Hall at the University of Malta, where it was very well received.
'The attendance was impressive and largely overwhelming!' comments Corazon, 'this proves how hungry Maltese audiences are for music which does justice to our language and which speaks of our Maltese culture and context.'
In this unique and innovative album, Corazon enjoys playing with musical genres and thematics. She deals with the most cliché of subjects, love, in diverse and original ways in songs like Valz, Daqshekk and L-Istorja Tagħna. Corazon is not afraid of tackling topical issues like separation in Tal-Aħħar and the rights of the unborn child in her title track, Hawn Jien. She dares to introduce audiences to a prostitute who yearns for real love in Illejla B'Xejn. Possibly the most well-received tracks in the album are Fid-Dar tan-Nanna, which is a snapshot of Corazon's own grandparents' home – a typical village dwelling which many of us are also familiar with, and Jgħidu Kien Hawn Raġel which resounds with the atmosphere of Maltese village life and characters as it narrates the story of a man who disappears to escape his debts, leaving behind his wife and family.
Of all the songs, Mari is probably the most daring and blunt exploring the intense emotions of a woman towards her husband's long-term mistress. Stylistically, Corazon prefers asking, instead of imposing her opinions. Her approach is emotional and sensitive – and above all, unmistakeably feminine!
The album is a mixture of well-known songs, most of which led Corazon to her hat-trick win at the Festival L-Għanja tal-Poplu, and new compositions which are already being welcomed by Maltese audiences. The former were given a new arrangement to fit in with the idea and feeling of the entire album.
Hawn Jien  has been produced to a high standard, both musically and aesthetically. It was recorded at Lito's Place, Floriana and engineered, mixed and mastered by Manolito Galea. Arrangements were taken care of by the gifted Dominic Galea. The album cover design was conceived and created by Ivan Sciberras, who also created the album design for world renowned band Counting Crows' latest album. The photography is by Claire Farrugia. Steve Borg is the executive producer of this album, which was also endorsed by the National Council for the Maltese Language and the Maltese Language Department at the University of Malta.
The album is available from D'Amato Record Shop in Valletta as well as by sending an email to [email protected]