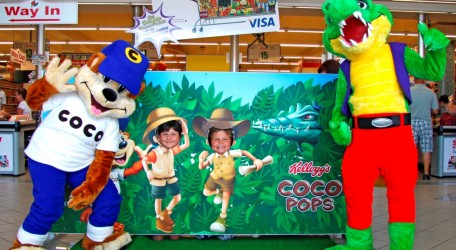 Kellogg's, the world renowned producer of breakfast cereals, has added Coco Pops Croc Prints to its cereal variety in Malta. To mark this exciting addition, Kellogg's is setting up two fun stands welcoming young children to meet Kellogg's two mascots 'Coco the Monkey' and 'Crafty Croc'.
While the parents carry out their shopping at the supermarket, their children are invited to help Coco the Monkey follow Crafty Croc footprints and take home a souvenir photo as a token of their success in finding the secret recipe. At the Kellogg's Coco Pops Croc Prints fun stand, the animators will also help the children to engage in educational arts and crafts activities.
The first Kellogg's Coco Prints fun event will be held at Pavi Supermarket in Qormi today (Friday) between 4.00pm and 7.00pm and tomorow Saturday between 10.00am and 1.00pm. The second event will be set up at Smart Supermarket in B'Kara on Thursday 11th and Friday 12th between 4.00pm and 7.00pm and Saturday 13th July between 10.00am and 1.00pm.
Breakfast is widely recognised as the most important meal of the day providing essential vitamins and minerals for a healthy diet and lifestyle. A nutritious breakfast is particularly important for children, as it improves both their physical and mental performance. Ready to eat cereals can form part of this breakfast, providing energy and essential nutrients for healthy growth and development. Cereal is also great tasting and easy to prepare.
"The new Kellogg's Coco Pops Croc Prints is a great way to set one's family up for the morning ahead. Delicious, crunchy crocodile foot multigrain parcels provide just the right balance between a breakfast that is nutritious and a taste every member of the family will love," said a Kellogg's spokesperson in Malta.
Ends