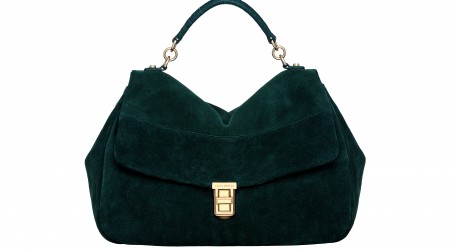 Italian leather specialists Coccinelle have been creating bags, shoes and accessories which perfectly represent the contemporary woman for over thirty years.    This elegantly iconic brand joins P.Cutajar Ltd's extensive portfolio of international brands and the Cocinelle store was officially opened during an exclusive event last Friday.  Located in Tower Street in Sliema this brand is already proving to be a very welcome addition to the popular shopping district.
The Cocinelle woman is dynamic, chic and modern and her Cocinelle bag is always in fashion, elegant, functional, and practical. For this Autumn and winter collection, Coccinelle is offering an irresistible mix  of rationality and sensuality, metropolitan esprit and the need to be seductive. The undisputed star for this season is the soft-bag with the vintage mood in suede or calfskin leather. Distinguishing features include the snap closure like a briefcase, the shoulder strap and the characteristic saddlery-like approach shared with the handbags, clutches, micro bags and duffels. There is a also vast and varied selection of bags, purses and fashion accessories to be found at the new shop which will definitely delight all women.
Experience, precision, attention to detail, quality and simplicity are the mantra behind the Coccinelle brand. Each product is hand crafted and updated year after year with a special focus on the selection of top quality materials destined to become coveted Cocinelle products.