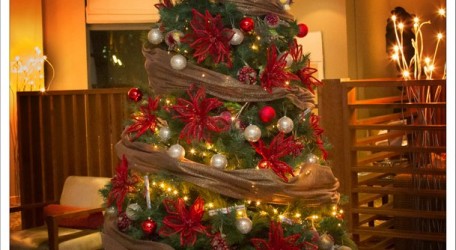 Christmas wears luxurious scents of discovery this year at Le Méridien St Julians Hotel & Spa. The creative management team has taken out a compass and drawn bridges across oceans, showing their clientele directions to festive traditions and countless rituals all over the world.  The hotel will be unfolding all their menus, Christmas-related activities and decorations around one unique – yet inspiring – focal point: the many customs and traditions celebrated under different latitudes at this time of year.
Year after year, Le Méridien St Julians Hotel & Spa has always strived to present a new refreshing angle to its Christmas and New Year's Eve options. Everything is carefully thought through to provide visitors with a renewed and enchanted experience. With this in mind, and throughout the past Christmas seasons, the hotel has in turn invited us to a Christmas Factory, engulf us magically in a fairy tale atmosphere and inspire us with a musical approach. Le Méridien's inspiration goes across borders this year with a merry season entitled "Christmas & Latitudes".
"Our Christmas & Latitudes brochure has been conceived like a boarding pass, opening doors to a multitude of new horizons", explains Melissa DeGabriele, Senior Marketing Executive at Le Méridien St Julians Hotel & Spa. "It presents our menu options of course, all articulated around the selected theme, but it is also filled with fun facts, quotes and QR codes, allowing the reader a dynamic and interactive approach to his selection process." Indeed, Le Méridien Christmas & Latitudes brochure invites the reader to learn about myths and dishes, dances and customs, unusual tastes and colourful folklore. Whilst flicking through this extensive list of dinners, lunches and parties; one can also unveil some interesting cultural facts and inspiring quotes that join the dots of true international celebrations. This is a wide-range theme that allows space for the expected traditional Christmas spirit, but taken to a whole new and different level.
The official launch of Le Méridien festive season will be held towards the end of November. This exclusive launch event is strictly by invitation only and promises to impress. Cocktails from different continents, an amazing pastry creation on display in the lobby, appetizing tasters from the international Christmas menus and a great party with a few entertaining twists that are still being kept secret.
"Of course, we also want to keep an element of surprise for our patrons and hotel guests", concludes Melissa DeGabriele. During the month of December, the premises are open to visitors who are invited to marvel in front of the original decorations that will be sprinkled throughout the hotel. Le Méridien giant Christmas cake will be revealed during the launch. The hotel's dedicated kitchen brigade has committed to present a sumptuous Christmas cake – eye-candy as well as a mouth-watering treat. The cake will be cut into individual portions and sold to visitors on Saturday 30th of November and on Sunday 1st of December from 9am till midnight on both days. Save the date, it's all for a good cause: all the proceeds will go to l-Istrina.
The hotel caters for Christmas functions and family reunions too, with recommendations for intimate dinners or large groups. With menus inspired from all over the world and an attentive events team, organizing your party at Le Méridien is fun and easy. The hotel also extends additional advantages and discounts for early-bookings. With this innovative "Christmas & Latitudes" concept, Le Méridien St Julians Hotel & Spa travels to unknown territories with high professionalism. They provide you with a clear map of all your requirements and the freedom of selecting unique landmarks for your end-of-year celebrations.
Online brochure: www.lemeridienmalta.com/christmasbrochure2013
Online bookings: www.lemeridienmalta.com/forms/christmas
Enquiries: [email protected]