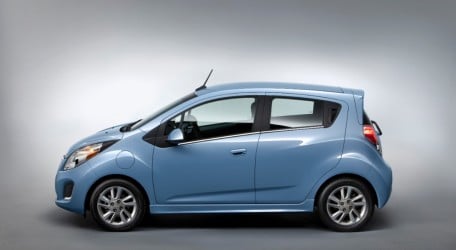 One of Chevrolet's best-selling small car in Europe, the Spark, has gained a special affinity in the hearts of the female population in Europe, with internal statistics showing that 59 percent of Spark owners are women.
Featuring attention-grabbing colors and edgy expressive design, Spark is a stylish and practical choice. It is a car that's easy to drive and has challenged preconceived notions of how an affordable mini-car can look and feel.
And the 2013 model has managed to improve on perfection. Subtle tweaks to its design and features have brought new women buyers into the Chevrolet family. But what is it about Spark that has so captivated women across Europe?
Young first-car owners, moms needing a second vehicle and retirees wanting a small city car have found that Spark fits their particular needs to perfection.
For Chevrolet, there is no one size fits all approach this very discerning group so every feature and function on Spark has a multiple roles.
One Spark owner is Ivana from Croatia who loves her Spark because it makes her driving enjoyable. "I love my Spark because it is part of me," says the nursery school teacher. "It always makes me inspired and happy, so I make sure I look after it and keep it looking fantastic.
"When I was looking for a car, the Spark's modern sporty look fascinated me, and I fell in love with the design. It has great handling yet is fuel efficient and has lots of equipment like air-conditioning. Also, I can plug in my MP3 player to the radio. I nicknamed it 'baby' as it is cute," she adds.
Families with children account for 34 percent of Spark owners. To them, safety is a crucial consideration. It is fair to say that Spark is a very safe mini car to drive. It received four out of five stars in the EuroNCAP test rating in 2009 and scored 81 percent in adult occupant and 78 percent in child protection.
Also, unlike many of its rivals, the Spark has five doors and five seats, which makes it a perfect second car for the whole family. A long wheelbase enabled the designers to reduce cabin intrusion, allowing for as much space between the axles as possible – idea for small families.
But Spark's appeal does not end there. Retirees make up 22 percent of all of the car's customers. Brigitte from Belgium says her Spark gives her valued independence to see her grandchildren or go shopping. She also likes the fact it is easy to drive and park in crowded centres.
"My Spark is very comfortable, has a great driving position, and a surprisingly spacious interior for a small car. The most useful function is that the controls are easy to read and use. The special thing is that it has some 'follow me home' lights that stay on when the driver opens the door – that's great."
Small is beautiful for Spark which features a dynamic package that really comes into its own in the urban environment. At just 3640 mm long and 1597 mm wide, Spark can squeeze into tight city spaces, including narrow lanes or small parking places.
Spark's dynamics and responsive handling characteristics, too, are perfectly in tune for the urban environment. Inside, the Spark's elevated driving position not only provides easy cabin access, but is both comfortable and confidence-inspiring.