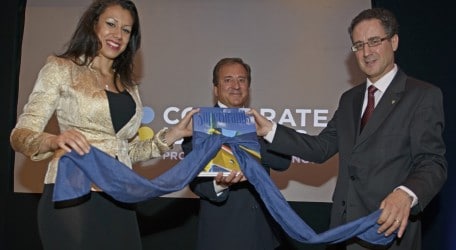 Pictured above: Giorgia Comollo, Alberto Luxardo and the author of the volume, Malcolm J. Naudi
Malta's top brands received the status of Superbrands at the gala Tribute Event during which the second volume of Superbrands was launched at the Pavilion Suite of the Westin Dragonara Resort last month.
The large majority of the brands that have been included in this volume were present to collect their Superbrands certificate and speak about their brands.
In her introduction, Giorgia Comollo, President of Superbrands Italy, whose territory includes Malta and Mauritius, paid tribute to her late father, Maurizio, who passed away prematurely in February, 2012, aged 56.
She listed the benefits of Superbrands status, including the splendidly produced coffee table book, a dedicated website – www.superbrandsmalta.com, the use of the Superbrands seal for their marketing and branding initiatives, and a dedicated YouTube channel, Superbrands TV, which provides brands with powerful 3-minute videos.
The Malta edition is the 150th publication by Superbrands worldwide. Some 15,000 presentations have been compiled of the leading brands in almost 90 countries around the world. A notable inclusion in this second volume is of Professor Edward de Bono of lateral thinking fame, who was named a Maltese Superbrand. No fewer than 12 brands that were in the first edition are in the second edition and some brand owners even increased their presence with a second brand.
Alberto Luxardo, Project Manager of the British Superbrands Group for the Italian market, said the Superbrands list with the strongest brands in Malta had been compiled with the help of Misco and the international research firm Brand Analysis UK.
The  keynote speaker of the evening, Jesmond Saliba, Director of Corporate Identities, tackled the power of branding and his personal experience through his career in the media, as a ministerial communications co-ordinator, brand manager and founder of his PR and corporate communications agency.
Among those present were members of the Superbrands Malta Council, headed by Dr Francis Zammit Dimech. The evening came to an end with a dinner. Superbrands was launched in the UK in 1994 and in Italy in 2002.