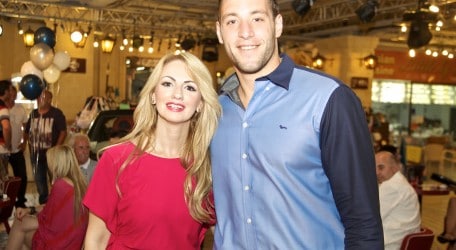 Pictured above: Diane Izzo, Director of the Dizz Group, and Matthew Zammit at the official opening of Caffè Pascucci Shop, located within the Artisan Market on Level 0 at Bay Street
Caffè Pascucci Shop, situated within the Artisan Market on Level 0 at Bay Street in St George's Bay, St Julian's, was officially opened recently with a reception.
Speaking at the opening, Diane Izzo, director of the Dizz Group, recalled that she was one of the first tenants at Bay Street with Terranova, and has great faith in the concept of a shopping, food and entertainment destination that is open from 10 am to 10 pm seven days a week. "For us, Terranova was a runaway success that has enabled us to go from strength to strength," she said.

This is a new franchise for the group and Ms Izzo acquired it as part of her diversification efforts in the catering area. "This is a very exciting lifestyle concept, which is new to Malta, and I intend to see that this new venture will continue to grow," she said.
Caffè Pascucci Shop is operated in conjunction with Matthew Zammit, who is also a shareholder and runs the operation day to day.
Pascucci, Italy's number two coffee producer, has franchise operations in eight locations throughout Italy, apart from 13 other countries around the world. A vast menu of coffee and other beverages is on offer since not only is Pascucci synonymous with different coffee blends but with a vast range of highly original products to tempt the taste buds for every moment of the day.
The flagship is the range of coffee blends that have made Pascucci's history, with the biological coffee blend being the latest arrival. The voyage through the senses continues with an ample range of infusions, each one with its own beneficial properties, its own taste and aroma.
The choice of drinks is also constantly evolving. The three different types of teas, all biologically certified, are also becoming unmistakable hallmarks of Pascucci. There are also a range of juices and cocktails.
Six members of staff were trained at the EspressoSchool to produce the highly original coffees from their new Malta location within the Artisan Market on Level 0 at Bay Street.
"Pascucci place great importance on having well trained staff in their franchise outlets and, since the Caffè Pascucci Shop will be open for long hours, seven days a week, we want to ensure that our qualified staff give a professional service from day one to enhance the Pascucci experience," Ms Izzo said.
Caffè Pascucci Shop is also the official supplier of room service and breakfast for the Bay Street Hotel.