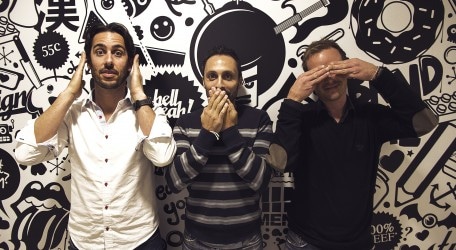 Malta-based creative agency BRND WGN is not only an official Google partner but is now also ISO-certified.
Best known for producing a series of viral videos for Air Malta, BRND WGN works with many of Malta's top brands including Cisk, Malta International Airport, Alberta, Agenda, Eurosport, The Point, Liquigas, Midi and Calamatta Cuschieri.
BRND WGN started as a one-man operation providing strategic consultancy but has now grown into a fully-integrated creative agency employing 29 people – more than a third of whom were employed within the last 12 months.
It is managed by three directors: CEO Peter Grech, who founded the company in 2007, Kris Vella Petroni, a former senior designer at top UK agency Volume who now heads the creative team, and Chris Knights, who heads the digital team.
"Creative agencies like us often come across as a bit kooky but our latest achievements show that there is method to the BRND WGN madness," said CEO Peter Grech.
"ISO-9001 certification was an important milestone for us because it confirms that our processes are efficient, successful and internationally recognised."
ISO-9000 is a family of standards of quality management systems designed to help companies meet the needs of customers and other interested parties.
Earlier this year, BRND WGN also became an official Google partner and has invested strongly in its digital arm with the recruitment of a digital analyst dedicated to ensuring the success of online campaigns.
BRND WGN has been a pioneer in online marketing, producing Twitter's first paid-for campaign in Malta.
The campaign for Air Malta's 25% Off seat sale, saw the airline automatically responding directly to people who tweeted about wanting to travel. It targeted potential customers by responding in real time with tweets referring to the current temperature in Malta for those looking for sunshine and beaches.
This year BRND WGN also set up a PR and Social Media Team specialising in brand journalism. The team is headed by former Times of Malta journalist Christian Peregin.
For more information about BRND WGN's services, achievements and portfolio, visit www.brndwgn.com and www.facebook.com/brndwgn.