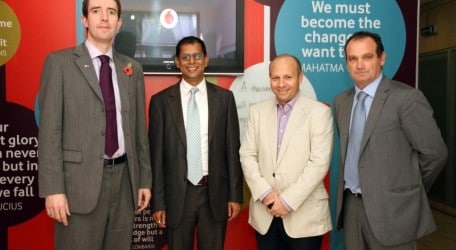 Pictured above: New British High Commisioner Robert Luke together with Balesh Sharma, CEO at Vodafone Malta, Jason Pavia, newly appointed board member on the Vodafone Malta Foundation and Martin Gregory, Head of HR at Vodafone Malta
 The new British High Commissioner to Malta, Mr Robert Luke, recently visited Vodafone House in Birkirkara where he was welcomed by Vodafone Malta's CEO, Balesh Sharma, Head of HR, Martin Gregory and newly appointed Vodafone Malta Foundation board member, Jason Pavia. The purpose of the visit was to obtain a better understanding of the activities undertaken by Vodafone Malta. Mr Luke was shown around Vodafone's offices, the call centre and other departments.
"I welcomed Vodafone's invitation gladly," said Mr Luke. "The links between the United Kingdom and Malta are of course particularly strong and supporting companies such as Vodafone, based in the UK, are a priority for the High Commission."
As is customary, British High Commissioner Mr Robert Luke was invited to become a member of the Vodafone Malta Foundation. The Vodafone Malta Foundation works to improve the lives of people in vulnerable situations and focuses on supporting social projects that make a difference in the Maltese community. It also supports organisations that promote health and medical development, protect the environment and safeguard national culture and heritage. The Vodafone Malta Foundation, led by former First Lady, Gemma Mifsud Bonnici and including current board members British High Commissioner Robert Luke, The Hon Karmenu Vella, Martin Gregory and Jason Pavia is an entirely separate entity from Vodafone's commercial operations.
Mr Luke joined the Diplomatic Service in 2000 from the Millennium Commission, and has served overseas in Brazil and most recently in Paris, as Counsellor for Justice and Home Affairs. In London he has worked on the Middle East Peace Process and the international criminal tribunals. On his appointment as British High Commissioner to the Republic of Malta he said, "I am honoured to be entrusted with deepening ties further, recognising the importance of our shared past and ensuring our partnership remains as close as possible in response to today's challenges. I look forward to working with the Maltese authorities, and immersing myself in the country more generally, as we collaborate across the full range of our shared interests both bilaterally and as partners in the European Union, the Commonwealth and other international organisations."