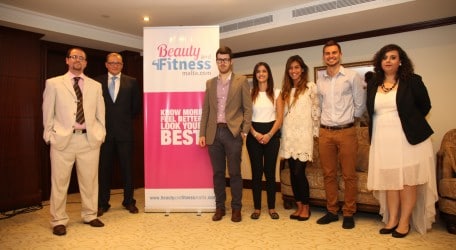 Pictured above: Business Director Maurizio Mamo, Creative Director Robert Caruana, Web Developer Christian Calleja, Graphic Designer Sarah Schembri Warr, Junior Marketing Executives Ilaria Bonicatto and Fabrizio Maltese, Marketing Executive Stephanie Calleja) Photo by Nicky Scicluna
The directors of Dark Dragon Media Ltd have just released their latest project, the trendsetting portal, www.beautyandfitnessmalta.com, online.
Beauty and Fitness Malta aims at revolutionising the concept of daytime talk show panel discussions by bringing the same topics of interest to a different platform, the virtual world, which allows for unprecedented feedback from the audience as well as reaching a much wider viewership.
The official launch took place at the Grand Hotel Excelsior in Valletta. Some 75 guests attended the event, most of whom will also be regularly contributing articles, tips, videos and images for the portal. Among the website's contributors so far are makeup artist Shasha, hair stylist Pierre Camille, Gordon Mayo from Toni & Guy Malta, nail technician Sue Caruana, fashion stylist Caroline Paris as well as cookbook author Peter Dacoutros.
Director Maurizio Mamo said the aim of this new project which has been in the works for a year is twofold: leading industry experts are using the website as a show of expertise while the readers are getting quality content which is credible and useful for people of all ages.
"We are being very content-centric; we believe that nowadays, information is the best means of self-promotion one could invest in, and that is why we have a great team of writers collaborating with us – I am sure they believe in it as much as we do", he stated during a brief presentation about the interactive element of the website.
The website has been inundated with innovative features such as tags, an 'ask a question' tab, a beauty and fitness directory as well as an archive of all articles that will be submitted.
Mr Mamo concluded his speech by thanking his whole team for helping him envision the website and bring it to life.