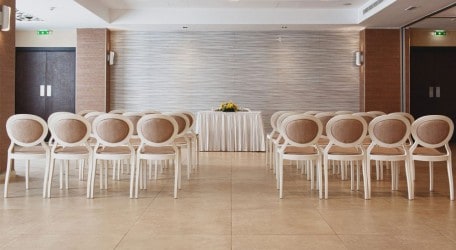 Finding the right meeting space rental for your event venue, being either a business conference, corporate meeting, or a social event for your company or simply for family and friends, can be more complicated than you would imagine. Nevertheless, things can be simplified if you choose the right venue. The new Luzzu Conference Centre in Qawra is becoming ever more popular with local and international business companies and entities in search of a different setting and that caters exclusively for conferences and similar events. The Luzzu Conference Hall has a contemporary and splendid setting with one large area which can be divided into six separate rooms through a state of the art system. Unlike other venues found in Malta, this room forms part of a complex with a restaurant and a lido pool for adults only.
The Conference Centre at Luzzu is one of Malta's most suitable premises for holding a conference or a large meeting. The place is a multi-purpose venue and appropriate for a range of business events. It is one of the largest event venues in the North of Malta, with space for up to 300 delegates in theatre style and up to 450 reception guests.
"The Luzzu Conference Centre has been recently renovated and it caters for any type of event; from any kind of corporate meetings to conferences and business exhibitions. Undoubtedly this place is the perfect destination to welcome meetings, conferences or other events including state-of-the-art technology and on-site catering. Our team of experienced and professional staff will cater for your needs, making sure that your event is unforgettable," said Mr Karl Abela, Event Sales Manager at The Luzzu Conference Centre.
All rooms at The Luzzu Conference Centre enjoy natural day light and sea view and there is an adjacent terrace that is ideal for a well-deserved coffee break or reception. Furthermore, the place has a disability access, with an elevator to the meeting hall and flat surface inside the Conference hall and plenty of public parking spaces available.  The size of this venue is 30 metres in length and 9 metres in width and it forms part of a big investment by AX Holdings that since 2016 has re-established this complex in the North of Malta.
"The Luzzu Conference Centre and its hall are also becoming a common spot, both for locals and foreigners in search of organising their wedding day. The scenario of the water's edge on the Qawra coastline gives an added value to this place, and the fact that the hall of the complex looks out on top of the pool deck while relishing the wonderful Maltese blue waters, makes the venue atmosphere much more special for anytime of occasion, including weddings," said Mr Abela.