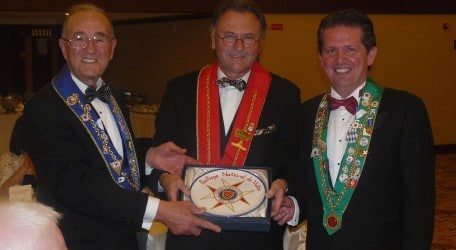 The Bailliage National de Malte, the local branch of the Association Mondiale de la Gastronomique, La Chaîne des Rôtisseurs, welcomed confreres and conseurs from Bavaria, Hamburg, Stuttgart and Hessen as well as their guests from various parts of Germany, Vienna, Switzerland and Italy to another night of haute cuisine which teased the curiosity of most patrons to identify ingredients and techniques which gave such an awesome outcome. The event took place at the Grand Hotel Excelsior.
Chancelier Chevalier Charles Gatt gave a special welcome to Chevalier Klaus-Wilhelm Gerard and his partner Federica who were responsible for bringing the group over to Malta to enjoy such a night of highly creative food and the best of Maltese wines.
Klaus is the Bailli Honoraire of the Bailliage Haute Bavière, having served 25 years as Bailli.  When he took the role of Bailli, the Bailliage had just 100 members.  When he retired, the number of members rose to over 450.  Such is his charm, and his partner Federica complements that. Apparently, most restaurant and bistro owners in Bavaria are Chaîne members. That is why they have about 25 dinners or repas every year. For the record, Klaus is also a member of the Conseil Magistral, so ones hopes that Paris will consider nominating him to officiate when there is a Chapitre in Malta.
Chev. Gatt explained that 32 years ago, the Bailliage in Malta was sponsored by the Bavarian Bailliage, hence the display of the Bavarian badge on the Maltese ribbon, with the white representing the clouds and the blue the sea.  Malta, of course, has an affinity with Bavaria from the past as many Knights of Malta were from Bavaria. The last Grand Master of the Order of Malta was Prince Ferdinand von Hompesch who had to leave Malta when Napoleon took over the sovereignty of the Maltese island in 1798.  The Auberge de Bavière still exists in Valletta and now houses a government department.
The Irish Ambassador HE Jim Hennessy and his wife Monica were also welcomed, as was a new professional member Maître Hôtelier David Woodward.  David is the General Manager of the Corinthia Palace Hotel and he was previously a Chaîne member in Strasbourg.  Another new member has been added to the Bailliage, Dame Dr Marlyse Cremers.
Now to the culinary side which was deliberately biased to introduce the German guests to local fare. Guests warmed up and got introduced to each other over a Cassar de Malte brut and canapés, prepared under the innovative direction of Executive Chef Roderick Vella.
To start with, there was a Chef's choice of amuse bouche, followed by an extraordinary and hard-to-put-a-finger-on revisted seafood flavours with sensations of octopus, red mullet, sea urchins and squid, textured in tomatoes and a calamansi emulsion. This was paired with a Neptunus 2010 DOC Superior Vermentino from San Niklaw Estate in Malta.
A lemon sorbet refreshed the palate for a full tasting of local pork in different variations – stuffed fillet, ale braised cheek, butt and shank terrine with a pomme Dauphine. Accompanying this innovative combination was a Contrada Ta' Fangu 2009 DOC, barrel-matured Syrah, again from San Niklaw Estate.
The culinary feast was rounded up with caramelised white chocolate and cassis mousse, apple and rhubarb crumble and kumquat ice-cream with a Maltese Guze' Passito, Syrah Vendage Tardive from Marsovin.
By the time the meal was over, everyone was blasted with tastes and textures which you do not usually come by. So Chef Vella and his brigade who prepared and served the food and wine throughout were toasted and applauded to the full when they showed up at the end with an appraisal by the Bailli Délégué.