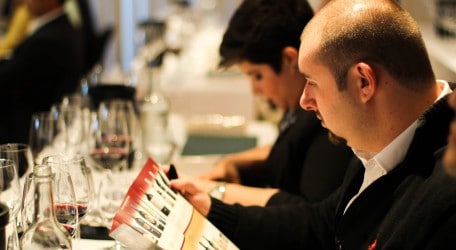 Masi Agricola Export Manager Carina Kurttila recently gave a presentation on the leading Amarone producer Masi, owned by the Boscaini family for the past six generations, and took guests through six wines out of a portfolio of 35 labels.
The event, introduced by John Bugeja, Wines and Marketing Executive of Attard & Co. Food Ltd, was held in the spacious foyer of Attard & Co.'s premises, the Canter Business Centre in Marsa.
Ms. Kurttila explained how the current owner of Masi Agricola, Dott. Sandro Boscaini, is the sixth generation owner of the high quality vineyards in the Vaio dei Masi, along with his brothers Bruno, an engineer who is responsible for all the facilities and the logistics, and Mario, a shareholder who is not active in the company.
Sandro, who has made it his lifetime passion to interpret the values of the Venetian region and even exported them to other regions in Italy and as far as Argentina, in South America, has also involved his two children in the business, Alessandra and Raffaele, who are Commercial and Marketing Directors, respectively.
The original Masi winery is based in Verona, in the Valpolicella Classico region, but it also produces wines in other Verona areas, including Soave and Bardolino. Thus, Masi can be said to be producers of supervenetian wines, Ms. Kurttila pointed out.
Thanks to collaboration with the Conti Serego Alighieri, descendents of the poet Dante, a noble family that has lived in Verona since 1363, Masi also produces a wine with grapes from Tuscany, with Vaio Armaron being their top wine from this region capable of ageing for 30 or 40 years.
It also produces in the regions of Friuli and Trentino, where a similar collaboration with another noble family, the Conti Bossi Fedrigotti, enables Masi to handle the production and distribution of the wines from the vineyards spread over 40 hectares in Revereto. "Their top wine is Fojaneghe, the first Bordeaux blend that even predates the Sassicaia in 1961," Ms. Kurttila said.
What also makes Masi stand out is its appassimento production method, which Sandro has updated to the appaxximento, which puts the XXI century technology into a winemaking tradition that dates back to the Romans. Ms. Kurttila explained that this involves storing the grapes on bamboo trays in lofts to allow them to concentrate colour and aroma.
This technology has also been introduced in Argentina, where an indigenous Verona grape, the Corvina, is also being grown, alongside local varieties, Malbec and Torrontés. The Boscaini family also have a research department and an experimental vineyard from where 48 local varieties that are not grown commercially are being cultivated.
One grape that dates back to antiquity that Sandro has brought back into commercial production is the Oseleta, used in the Brolo Campofiorin that was tasted during the event, and is now growing 12 hectares of this vine.
The first of two white wines that were tasted was the Passo Blanco from Argentina, a blend of 40% Pinot Grigio that is semi-dried and 60% Torrontés. This is a fresh, modern, New World wine with tastes of green apple and more complex aromas.
Next came the Masianco Pinot Grigio which is blended with 25% Verduzzo, a local Venetian variety and worthy brother to the famous red, Campofiorin. It has a buttery taste with apricot and tropical fruit aromas.
Refosco grapes are used for a rosé wine, the Rosa dei Masi, of which 15% of the grapes are lightly dried. The wine has a light, intriguing colour and leaves a long after taste that makes it pleasant with different types of foods.
Three red wines completed the evening's tasting. The Brolo Campofiorin (2009) is made of 80% Corvina, 10% Rondinella and 10% Oseleta grapes and as a result of the 24 months spent maturing in oak, it has great ageing potential. This wine has hints of dried fruit and aromas of dark cherries, red berries and blackberries.
Another red wine that can age for up to 40 years is the Riserva di Costasera Amarone, a blend of 70% Corvina, 15% Rondinella, 10% Oseleta and 5% Molinara. This has a long appassimento of 120 days and is a majestic, complex and elegant wine.
Angelorum, a Recioto from the Valpolicella Classico region, is served in a half bottle (375 ml). Again a blend of Corvina, Rondinella and Molinara grapes, this is a dessert wine that goes well with dry cakes like Pandoro, Gorgonzola cheese, dark chocolate and peanuts.
For more information about Masi Agricola please visit www.masi.it/eng/company/family.