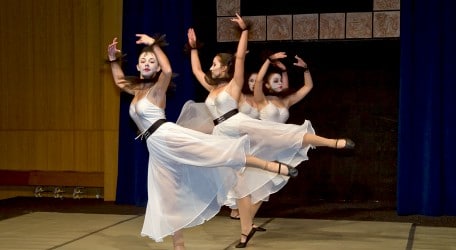 For the 24th consecutive year the parents, patrons and guests were entertained to another Dance Show by pupils from Pauleen's Dance Studio at a Dolman Conference Oracle Hall in Qawra- which took place last month.
Pauleen started the show by addressing her audience with this short speech:
"St. Paul's Bay is no longer the small fishing village of some forty years ago, now it has become more cosmopolitan. The population has increased and has become a popular hub for immigrants and other Maltese couples who prefer living there, than in their town or village of origin.  A good number of different tongued pupils are now attending the Studio. As a result the studio is offering a window of various style of dance and cultures that help create a good variation of dance disciplines which would reflect in the performances during the show."
The show knocked off with a beautiful solo performed by Candice Zarb in contemporary style to the music to Carmina Burana. 'Les Jours Tristes,' a dance performed by Grade 6 Classical Ballet pupils, which was also choreographed by Candice Zarb was well executed in fine costumes, periot make-up and clean steps. 'Music Box', 'Witch Doctor', 'Boom Boom Pow', 'Heigh Ho' and 'Smooth Criminal' choreographed by Rachel Micallef and performed by the youngest members of the Studio gave good justice to their performance.  Many little ones of different colour or race stole the hearts of everybody present. As usual they danced without inhibitions and waved to their parents to confirm that they were on stage, showing no sign of stage fright whatsoever.
The slightly older pupils ranging between nine and fifteen years presented other entertaining numbers such as 'Grease Lightening', 'Titanium' and 'Girls Gone Wild' and 'Seven Nation Army'. These dances included Modern Jazz and Tap dancing.
Other dances in Lyrical style such as 'Try', 'Memory', 'Broken Strings' were also worth a mention, but my favourite was 'Gladiator' performed by Grade 6 Lyrical dancers.  It was a trio that demonstrated well synchronised movements, good feel to the music and costumed to predict the era. Praise also goes to Valerie Micallef who sewed over a hundred costumes for this Christmas Event.  Abigail Fenech who was in charge of the choreography and teaching of the Lyrical section also deserves to be mentioned.
A superb performance of 'Ave Maria' was performed by Yanika Borg.  The dance was in a contemporary lyrical style and this dancer stole the attention of the audience by her strong style.  'Barentanz' performed by the Ballet Repertoire pupils brought the first half to a highly applauded end.  The dance was performed en points to a rhythmical ethnic folklore German Medieval tune.
After a short refreshment break, the audience was entertained to two other tap routines and a Musical Medley, which rounded off the Christmas Show on an entertaining feel for dance.
Pauleen thanked all her pupils, parents, dedicated staff, helpers, wardrobe mistress, other dressmakers and her supportive husband Tony who have helped towards the success of this show. Pauleen reminds her pupils that her studio is now open and new bookings will also be accepted.  For more information one can phone on 99403764 or log on www.pauleensdancestudio.com.