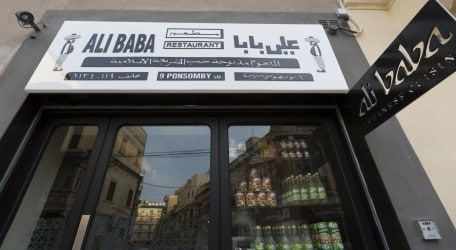 Founder's son takes over as Chef Patron
A second-generation member of the Harb family from Lebanon, Hany Harb, has taken over at the Ali Baba Restaurant in Gzira. The restaurant has been open for over 25 years and is a family business with Hany's family having settled in Malta in the early 80s.
Hany was educated at St Edwards College, where he was a border, and at the Institute of Tourism Studies, followed by stints in four-star hotels, a Michelin star restaurant and, for three years, at Kitchen Concepts before he rejoined the family business, where he had helped out from his youth.
Building on the healthy reputation of the locale, Hany has gone all out to offer quality and seeks to educate his clients on the culture of food and wine from the land of his family, ensuring guests receive top level hospitality and an overall good dining experience.
He engaged designers Andrew Vinci and Simon Grech to refurbish the intimate locale and the result is both clean and contemporary, with a state-of-the-art kitchen that is more than doubled in size, and an eye for detail that includes blown glass sinks in the bathrooms.
Despite his Lebanese origins, Hany says he feels Maltese and is keen to source local suppliers as much as possible for his excellent selection of Lebanese and Mediterranean cuisine. He takes time to listen to his clients and is open to suggestions.
He and his family (his father, Abdul Rahman, and mother still help out) organised a special evening earlier this month to mark the restaurant's reopening in which guests, who included some local dignitaries and suppliers, were treated to a multiple course meal that gave an excellent overview of the food and wine selection.
There was an oxtail soup with lentils and fresh coriander for starters, followed by a selection of meze. The food kept on flowing with wine accompanying the different courses. There was homous bit-tahineh, baba ghanouge, arayess (pitta bread) with lamb and chicken, cracked wheat and lamb kibbeh, falafel with salmon, sea bass and home-made aromatic ketchup and lamb sausages. For dessert there was home-made knefeh we baklewa (layered pastries with almonds and pistachios) sweets with authentic Turkish coffee.
The above list does not do justice to the variety of tastes and accompaniments, including herbs, couscous and other decorations that accompanied the meal. Hany recalls the restaurant was known for its burgers, which he still serves on request, but he is keen to enable his guests to try the variety of Lebanese cuisine and whatever catches their fancy both from the menu and the list of specials offered every day, depending on the freshest ingredients he sources.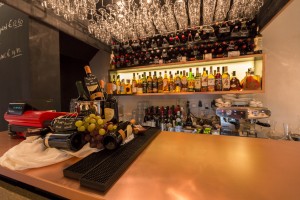 The Lebanese wine selection of the evening, all from the Château Kefraya winery, represented by Attard & Co., started with Myst de Château Kefraya. This is part of the Seduction range, an easy drinking rosé that blends Cinsaut, Grenache, Tempranillo, Syrah, Cabernet Sauvignon, Mourvèdre, Marselan and Cabernet Franc grapes. It has a fresh bouquet with fine intensity, revealing notes of exotic fruits, redcurrant and raspberry, apart from melon, peach and red fruits. A rosé that is refined, delicate and aromatic with notes of cherry, blackcurrant and strawberry,
Then came a Blanc de Blancs, a blend of eight grape varieties, Viognier, Sauvignon Blanc, Clairette, Bourboulenc, Muscat à petits grains, Ugni Blanc, Chardonnay and Verdejo. This is a full-bodied, intense blend with intense notes of honey, acacia and lilac flowers on the nose, along with fruitier aromas. It is fresh, harmonious and elegant on the palate with a nice aftertaste.
Les Bretèches, also part of the Seduction range, is a light, fruity blend of five red grapes – Cinsaut, Tempranillo, Syrah, Cabernet Sauvignon and Carignan – producing a wine that is easy to savour with a balanced, rounded taste and soft tannins. After fermentation, the wine is left to mature in stainless steel tanks for 10 months and then bottle aged for about a year. This wine has a fresh bouquet of good intensity with subtle notes of fresh forest fruits, spices and a hint of pepper.
Further up the range is Château Kefraya, a blend of three red grape varieties, mainly Cabernet Sauvignon (54%) and Syrah (37%) with a hint of Carignan (9%). After fermentation the wine is left to mature for 16 months in French oak barrels. A well-balanced red wine full of palate, aged in French oak barrels. The bouquet reveals notes of vanilla, coconut, cooked fruits and a slight, woody presence. The taste is complex for this full-bodied wine with aromas of fruits and spices.
A sweet dessert wine, Lacrima d'Oro is made exclusively with Clairette grapes. After fermentation the wine is matured in tanks for 12 months and then for a further three years in bottles. This wine is well balanced and rounded with notes of cooked fruit mixed with honey. There is a long, aromatic presence and the bouquet is fresh with subtle notes of honey, rancid walnuts and white flowers, apart from cooked apricots and crystallised quince.
Kefraya Arak, white alcohol to 53.1% volume after four distillations, accompanied the coffee. Made with Cinsaut grapes with which the best fresh green aniseed produced in Syria is poured after the third distillation.
Ali Baba is open for lunch and dinner from Tuesday to Saturday. Lunch is served between noon and 3 p.m. and dinner between 6.30 and 10.30 p.m., when the kitchen closes. Take-aways are accepted and the restaurant also offers outside catering for parties and weddings. Reservations are accepted on 21340199.